Well then, the books are something like our books, only the words go the wrong way; I know that, because I've held one of our books to the glass, and then they hold up one in the other room.
--Lewis Carroll, Through the Looking Glass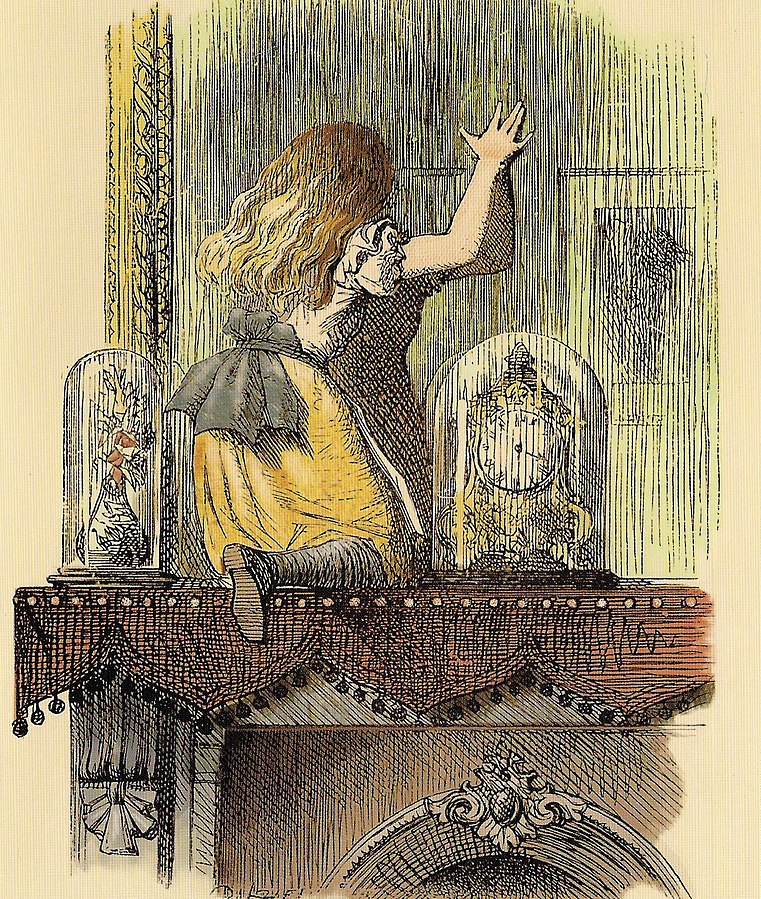 First, a confession. When I was a bookseller, there were occasions when I would have appreciated a plexiglass shield between myself and some customers at the POS/Information counter. Be careful what you wish for.
A few years ago, I ventured the theory that most prospective booksellers underestimate the amount of time they'll spend as cashiers. That duty tends to be soft-pedaled during the interview process, since in this vow-of-poverty, passion-driven profession, accentuating the positive is the rule. It just makes sense to showcase the glories of handselling, the avalanche of unlimited ARCS and the distinguished company of well-read colleagues, while the interviewee clings to sugar plum visions of a dream job, featuring serene hours lost in the stacks that are occasionally, yet gently, interrupted to handsell the perfect book to its perfect reader.
Now the rules have changed again, or more accurately they seem to change every damn day. We've all become Alice, stubbornly pursuing logic in a time of absurdity ("Today, the Coronavirus Task Force issued the following guidelines: 'Twas brillig, and the slithy toves/ Did gyre and gimble in the wabe;/ All mimsy were the borogoves,/ And the mome raths outgrabe....' ").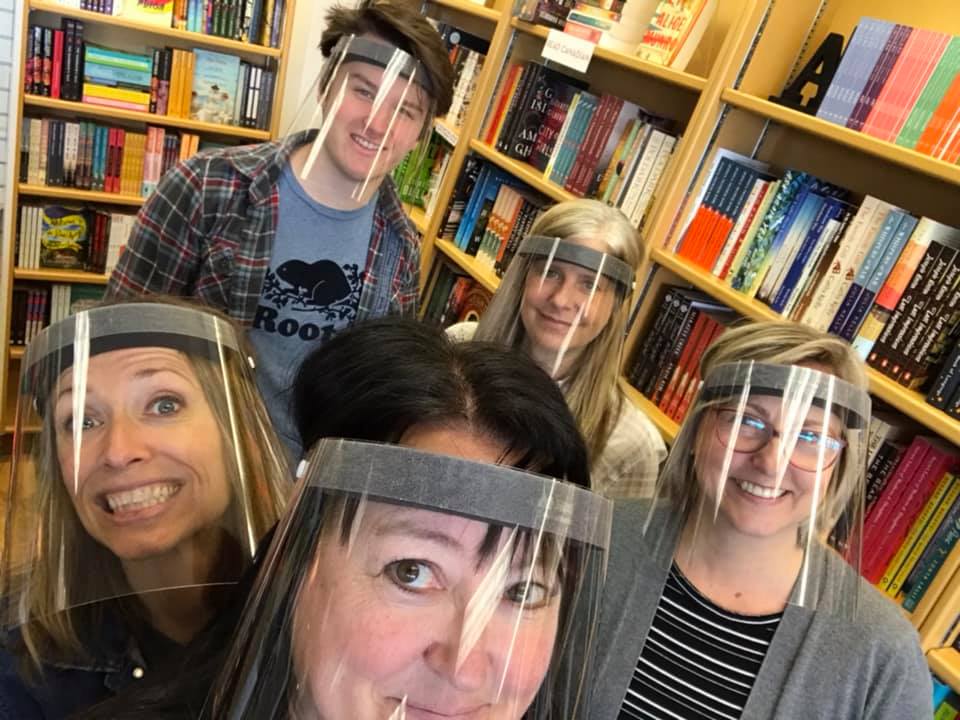 At the Book Keeper, Sarnia, Ontario
As booksellers tentatively explore this alternative land of retail protocols for masked handselling ("We aren't sure which sci-fi novel we are in at the moment but we will be ready!"), antiseptic sales floors and minimal-contact POS transactions, I've been particularly intrigued by the sudden appearance of plexiglass shields near cashier stations. They are likely to be with us for a while. We'll be spending a lot of time looking at each other through windows.
Earlier this month, Canadian bookseller Munro's Books, Victoria, B.C., posted: "Can you spot the difference? Protective plexiglass is just one of the safety measures we're putting in place as we eagerly work toward welcoming you through our doors again. We think the vibe around here can best be described as 'cheerful chaos' (the carpenter's drill is roaring away at this very moment), but as we brush the sawdust--and, er, regular dust--off our clothes at the end of each shift, we're filled with gratitude to be able to continue the fine work of bookselling. Thank you for continuing to support us through these strange times."
Strange times, indeed. In the Covid Age, deflector shields may be going up everywhere, including extreme alternatives like dining pods, iSpheres and Isolate. And if these or the literary madness raging in Alice's Looking-glass house aren't enough for you, try DEVO-inspired Energy Dome face shields. Sold by DEVO!
As part of their strategy to reopen as safely as possible, many bookstores have opted for POS shields. At Books to Be Red, Okracoke, N.C., the "blue X's are down, the plexiglass is up, and we are open for business. Please wear your mask and stop in. If we have too many people, you may have to wait a bit. I am also available to take appointments if you would like to go that route."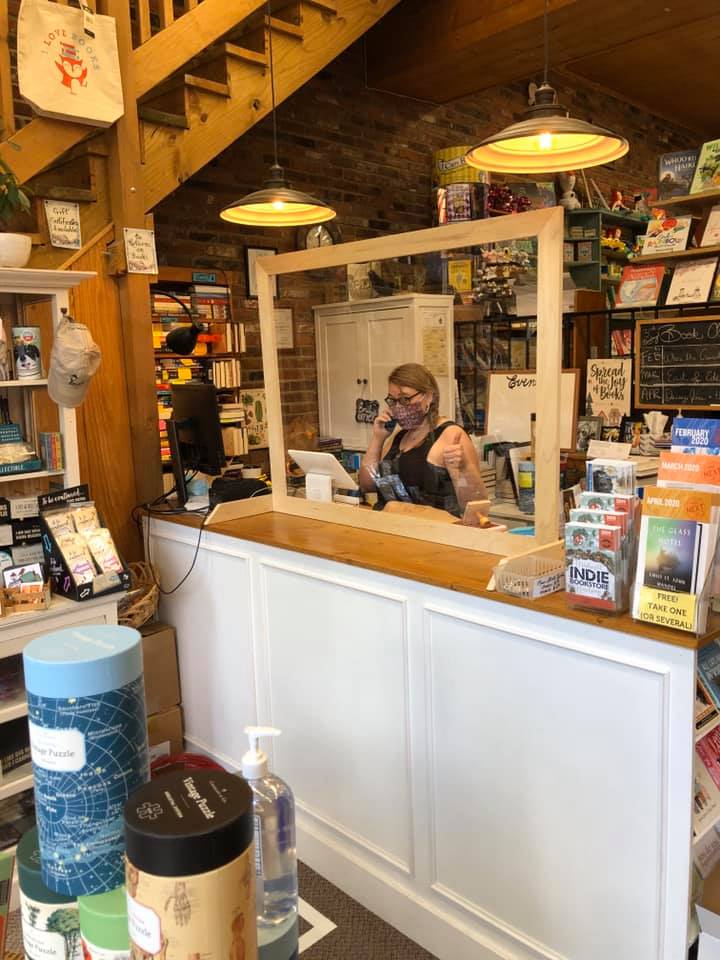 At Main Street Books
"Teamwork!" Penguin Bookshop, Sewickley, Pa., exclaimed: "Mary and hubbie--doctor/carpenter Joe--hang our plexiglass counter shields and I must say, they look terrific. It takes a village!"
Main Street Books, St. Charles, Mo., now has "a bespoke sneeze guard, lovingly crafted by Andy (co-owner, dad) and Ian (bookkeeper, husband), for your protection and ours."
Some New York State regions have now entered Phase 1 of reopening. "Though we are not a part of that we are working to make our store safe for our employees and customers," the Golden Notebook in Woodstock said. "We like to think our new plexi-glassed front counter will be reminiscent of an old train station or bank. Movie theater? Or maybe back to the pharmacy we were over 40 years ago. See you soon again."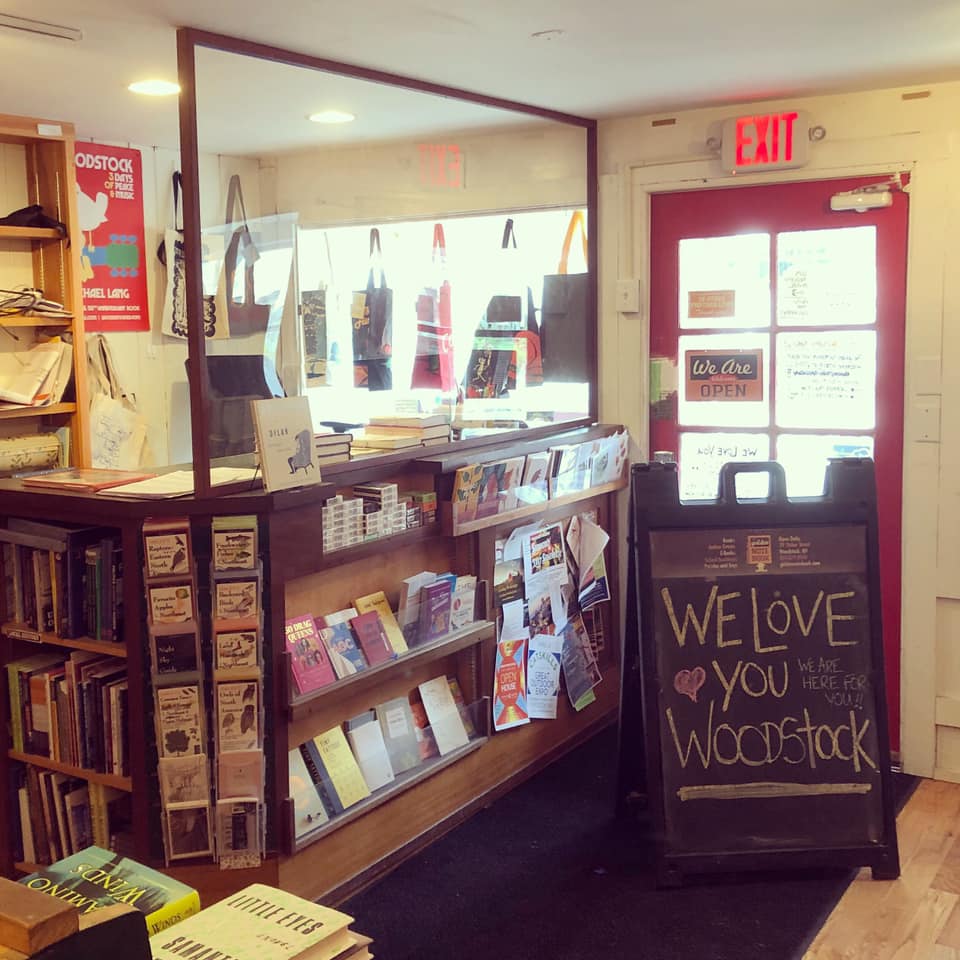 At the Golden Notebook
POS shields are also up at Wheatberry Books, Chillicothe, Ohio ("One of the ways we are working to keep your shopping experience safe is by limiting contact during checkout."), Book Buyers, Charlotte, N.C. ("Lee is smiling (honest!) behind the mask and the counter shield.") and Tatnuck Booksellers, Westborough, Mass. ("Plexiglass partitions have been installed at all cash registers.").
Are we becoming a nation of window shoppers at every phase of the retail transaction? No one knows yet. Unlike Alice, we don't have the option of going back through the Looking-glass to a world before Covid-19. So here we remain, exploring our Jabberwockian "new normal" through a plexiglass lens.
"It seems very pretty," she said when she had finished it, "but it's rather hard to understand!" (You see she didn't like to confess, even to herself, that she couldn't make it out at all.)