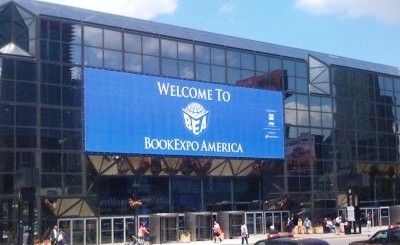 The Javits Center in bygone days
Imagine thousands of book people convening annually for a few days in Manhattan. Imagine a city hotel full of booksellers. Now imagine the book world we're living in this spring. Imagine bright lights, big city, no BookExpo. Imagine people who would be talking books all day--and well into the night, face to face--suddenly becoming Zoom watchers. Imagine that being the best-case scenario under tough, even life-threatening circumstances.
Covid-19 hit hard, Javits became a hospital, BookExpo went virtual and we don't know what the book world will become in six months, one year or even five years.
On Wednesday night in Manhattan, 100 million LED pixels were darkened on Times Square billboards for one minute to show support for businesses struggling to survive the Covid-19 pandemic. Then a video was displayed, featuring messages from business leaders and celebrities.
Earlier that afternoon, enduring 90-degree temps and humidity in Saratoga Springs, I couldn't help but think that under normal circumstances I'd be walking back to my hotel room from Javits Center after BookExpo's education day sessions. The memory was visceral; the sidewalks of New York emit a particular kind of sticky stinky on days like that. Strangely, I missed it a little.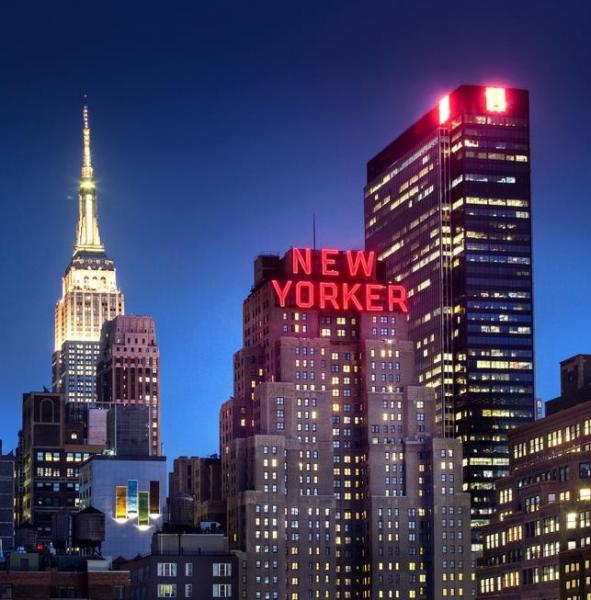 "We will travel again," Marriott Bonvoy recently assured me in an e-mail, though I keep thinking about an empty Wyndham New Yorker hotel on Eighth Avenue this week. As recently as February 19 (February 19!), Bookselling This Week reported booksellers "can register now for BookExpo 2020" and that "thanks to a significant financial commitment from Reed Exhibitions, ABA member booksellers can reserve rooms at the 2020 Hotel ABA." Remember those ancient times?
In the midst of the 2009 financial crisis, I wrote a pre-BEA column headlined "The Book Circus Is Coming to Town!" Reminiscing about my first ABA trade show (Miami in 1993), I noted that 16 years later, I would "resist the temptation to imagine Bookocalypse Now. The economy stinks. The publishing industry may not be underwater, but it's definitely paddling real hard on the surface. Booksellers have to measure every penny spent and their decisions about attending or not attending BEA are more challenging than ever. And how can one not speculate about a virtual BEA for e-books in the 'distant' future, held exclusively on Twitter and Facebook? Okay, we can resist that last one for a while."
And we did... for 11 years, though I never envisioned Pandemic BookExpo or Zoomlandia BookExpo or a vacant 2020 Hotel ABA.
The 1919 American Booksellers Association Convention was held at Boston's Hotel Copley Plaza. In the wake of World War I, and still dealing with a years-long influenza pandemic, ABA secretary Frederic G. Melcher published an article in The Bookman headlined "The Bookseller: The Reader's Best Friend."
"Today brings in the greatest opportunity the bookseller has ever had, the opportunity to observe an eager and widened reading public at an epoch in the world's history," he wrote. "The preparation for adequate service is not complete; there are too few outlets, too few trained salesmen; but the booksellers see the way toward better things, and they ask and deserve the support and interest of the book-loving public of this country."
A century has elapsed from Hotel Copley Plaza to Wyndham New Yorker, though time is, of course, malleable at conventions and in hotels. Maybe it's the suspension of "normal" hours (until checkout, at least) or the brief gatherings of strangers under the same roof. Possibilities, fictional and otherwise, seem limitless.
Stories certainly are. The best hotel novels leave us with haunting impressions: the drained Hotel Trianon swimming pool in Graham Greene's The Comedians; the desolate beauty of an isolated geisha house in Yasunari Kawabata's Snow Country; the lethal ambiance of the empty Overlook Hotel in Stephen King's The Shining. So many more.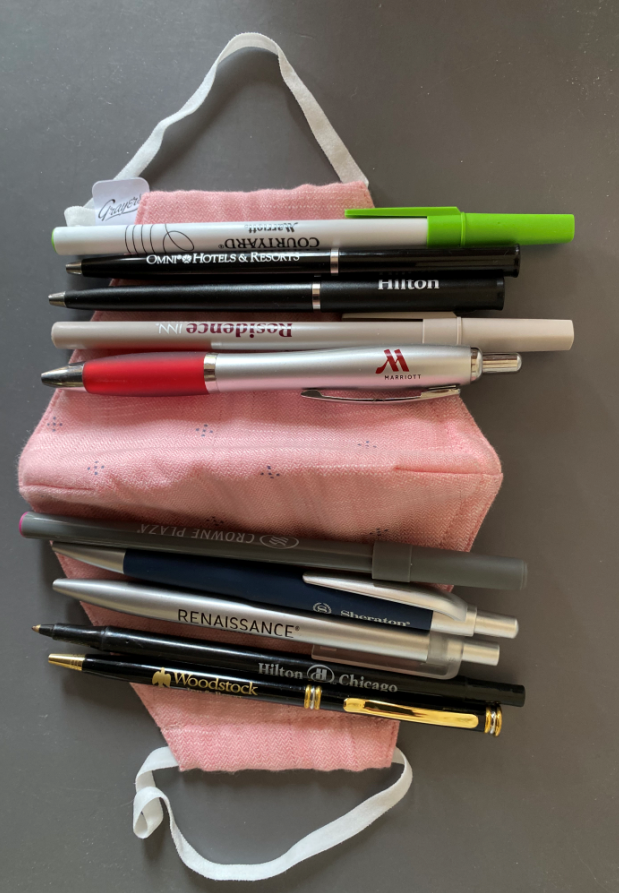 Future for hotels: More masks, no pens
In the real-ish world, Hilton has announced a partnership with Lysol's parent company and the Mayo Clinic regarding disinfection and cleanliness standards for its hotels, NPR reported. Phil Cordell, Hilton's global head of brand development, said guests "will see that some of the items in the room that could likely be fingerprinted by previous guests--magazines, notepads, pens--those items have been removed from the room."
No pens? Novelists will have to adapt to the post-Covid "new normal" as well.
"As hotels spray, disinfect and purge their rooms of pens, magazines and notepads, they may eliminate germs," NPR noted. "But will they eliminate anxiety? Hotels are about to find out."
Indie booksellers know that feeling well, as they navigate a minefield of state and federal guidelines in their cautious moves toward reopening. I think of Ali Smith's first lines in her novel Hotel World:
Woooooooo-hooooooo what a fall what a soar what a plummet what a dash into dark into light what a plunge what a glide thud crash what a drop what a rush what a swoop what a fright what a mad hushed skirl what a smash mush mash-up broke and gashed what a heart in my mouth what an end.
For the past three months, the book trade has often felt like that. Are we plummeting like Icarus, or skydiving, with faith that the parachutes will deploy in time? Thus far, I'm trusting the chutes.