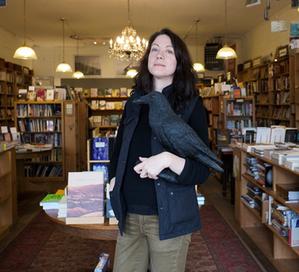 photo: Bill Johnston Jr.
Helen Macdonald is a writer, poet, illustrator and naturalist, and an affiliated research scholar at the Department of History and Philosophy of Science at the University of Cambridge. She is the author of the award-winning H Is for Hawk, as well as a cultural history of falcons, titled Falcon, and three collections of poetry, including Shaler's Fish. Macdonald was a Research Fellow at Jesus College, Cambridge, has worked as a professional falconer, and has assisted with the management of raptor research and conservation projects across Eurasia. She now writes for the New York Times Magazine, and her latest book is Vesper Flights (Grove, August 26, 2020).
On your nightstand now:
There's always a huge pile; more than once I've been woken by it toppling onto me. Right now, among others, there's an advance reader's copy of Eley Williams's novel The Liar's Dictionary; Ted Chiang's Exhalation: Stories; Colson Whitehead's Nickel Boys; Omar Sakr's poetry collection The Lost Arabs;an ancient paperback of Josephine Tey's Brat Farrar; Gregg Mitman's Reel Nature; and Anna Lowenhaupt Tsing's The Mushroom at the End of the World.
Favorite book when you were a child:
I was a solitary, nature-obsessed child, and adored Brendon Chase by Denys Watkins Pitchford, who wrote under the pen name BB. It's a children's novel from 1944, the story of some posh schoolboys who run away from home to live in a forest, and I desperately wanted to be one of them, despite being not posh, not a schoolboy and having a happy life at home.
Your top five authors:
This is the hardest question. In fact, an impossible question, and I don't think I can answer it. Apart from Shakespeare, because Shakespeare. But perhaps I can answer it this way: some writers have a very peculiar effect on me: after reading them I always want to sit down and start writing. Among them are W.G. Sebald, Henry Green, Tommy Pico, Phil Klay, Jeff VanderMeer, Marilynne Robinson.
Book you've faked reading:
I've pretended to read a lot more Dickens than I actually have. A lot.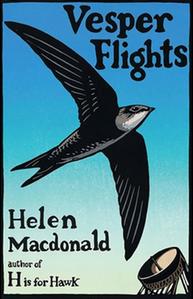 Book you're an evangelist for:
Elena Passarello's Animals Strike Curious Poses. I think it might be the best book on animals I've ever read. I'm constantly giving it to people.
Book you've bought for the cover:
It's a modern paperback edition of Rex Warner's The Aerodrome, published by Vintage UK. The novel is a fable about the rise of English fascism, so disturbingly relevant to our historical moment. This edition has a rendition of an aircraft propeller on the cover, and the book comes with a striped plastic insert sheet that sets up interference patterns if you move it over the cover image--it makes the propeller move and rotate. It's magical.
Book you hid from your parents:
I didn't hide any books from them. But I don't think I owned any that would have disturbed them. Like most of my teenage friends, I used to search out literary erotica at other people's houses while on babysitting duties. I have friends my age from Australia and America who did this too: it was clearly an international phenomenon in the 1980s.
Book that changed your life:
Lunch Poems by Frank O'Hara started me writing poetry. William Gibson's Neuromancer turned me into a teenage sci-fi nerd as well as a nature nerd. David Matless's monograph Landscape and Englishness changed my thinking about the ways in which culture, history and nature coincide. And of course, T.H. White's Sword in the Stone, which I read very young, started me on the path that ended with writing H Is for Hawk.
Favorite line from a book:
I have lots of favorite lines, but only one that I've had by heart ever since first reading it. It's the opening of Red Harvest by Dashiell Hammett: I first heard Personville called Poisonville by a red-headed mucker named Hickey Dewey in the Big Ship in Butte. He also called a shirt a shoit. Yes, I read a lot of hard-boiled fiction at university when I should have been reading 16th-century poetry.
Five books you'll never part with:
R.F. Langley, Collected Poems
Frank O'Hara, The Collected Works of Frank O'Hara
Elena Passarello, Animals Strike Curious Poses
John le Carré, Tinker Tailor Soldier Spy
Lars Svensson, Killian Mullarney and Dan Zetterström, Collins Bird Guide
Book you most want to read again for the first time:
Douglas Coupland's Generation X: Tales for an Accelerated Culture blew me away when it came out in 1991. Reading it with all the self-absorption of youth, it felt, back then, as if it had been written just for me. But perhaps I don't want to read it again for the first time, so many years later, the world the way it is. It'd be hellishly poignant and I'd probably burst into tears.