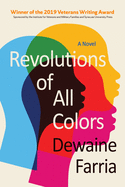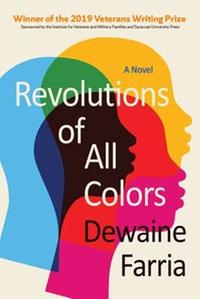 Winner of the 2019 Veterans Writing Award, chosen by Tobias Wolff, Dewaine Farria develops his extraordinary debut novel, Revolutions of All Colors, through exquisite snapshots scattered among the decades. In 1996, Ettie Moten is an Oklahoma state prison counselor and single mother raising Simon, the son of a recently deceased Black Panther whom she first met in New Orleans in 1970. But she's not alone. Her longtime colleague Frank Mathis, the deputy warden and a Vietnam veteran, has taken the teenager under his wing alongside his own two sons. As a result, Simon, Michael and Gabriel form a bond of brotherhood that flowers into the 21st century, as they stake their claims on a world that will never cut them slack.
"When you go to war, your soul is at as much hazard as your body. More really," Frank explains to them, but mostly to Simon, dark-skinned, athletic and restless, determined to be a pararescue officer in the air force. Michael and Gabriel, on the other hand, have no interest in the military and rib Simon for his hotheadedness. Nonetheless, he is their protector when their sensitive natures and lighter skin draw scorn from their peers. But Farria carefully teases out the more subtle ways Michael and Gabriel protect Simon in return.
Gabriel's is the defining voice of the novel. A former dancer, "a sliver past decent," he aspires now to write. In 2008, he has traded in the uninspired fantasy fiction that once enthralled him for more realized yet heartrending stories from his youth, at the behest of Tamara, a beautiful Ukrainian arms dealer he fell in love with while teaching English in Kyiv. "Unlike most Americans," she observes, "Gabe seemed to understand just how much of this world's tragedy so richly deserves laughter."
Likewise, Farria writes with vibrant, breathtaking elegance, unabashed to imbue even bleak corners of the world with shades of humor and simmering sexuality. The trio deal with their divergent manhoods tenderly and thoughtfully. Meanwhile, Farria holds in graceful tension the violence of wars abroad and the invigorating energy of passionate endeavors, the brutality of battles at home and the solace of brotherly love.
Revolutions of All Colors radiates adoration and wonder for fighters and their resilience. Intimate second-person chapters address Simon directly, as he serves abroad, flees regrets and throws himself into mixed martial arts. With singular talent, Farria details the dreams and disappointments of a family he demonstrates deep fondness for, body and soul. --Dave Wheeler, associate editor, Shelf Awareness
Shelf Talker: Dewaine Farria generously traces two generations of chosen family as they navigate manhood, race and sexuality in an unforgiving world.