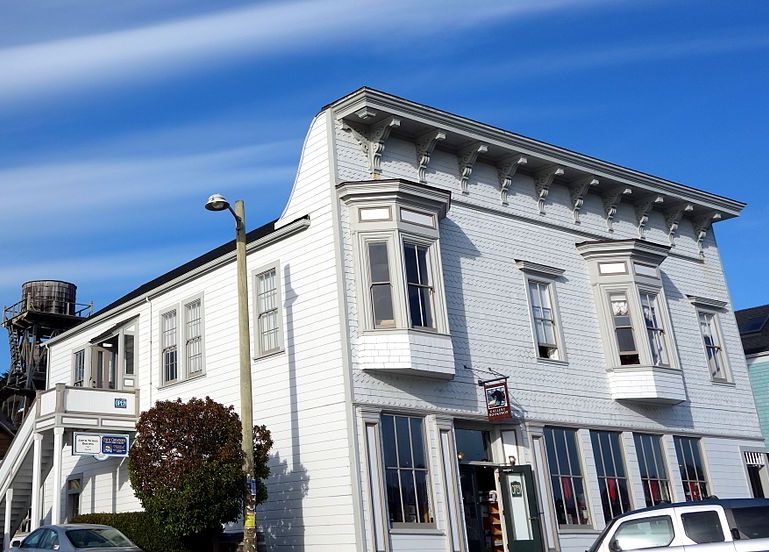 In Mendocino, Calif., Gallery Bookshop has settled into a new normal of being "more-or-less reopened," said owner Christie Olson Day. There are strict limits on how many people can be in the store at once (six in total, based on the store's 2,700 square feet of selling space), and Day and her team set up an entry foyer where customers can step inside, ask questions, look at a few bestseller displays and wait their turn to enter if necessary. There is also a staff workstation in the foyer, so there's always a bookseller on hand who keeps track of capacity while working on web orders.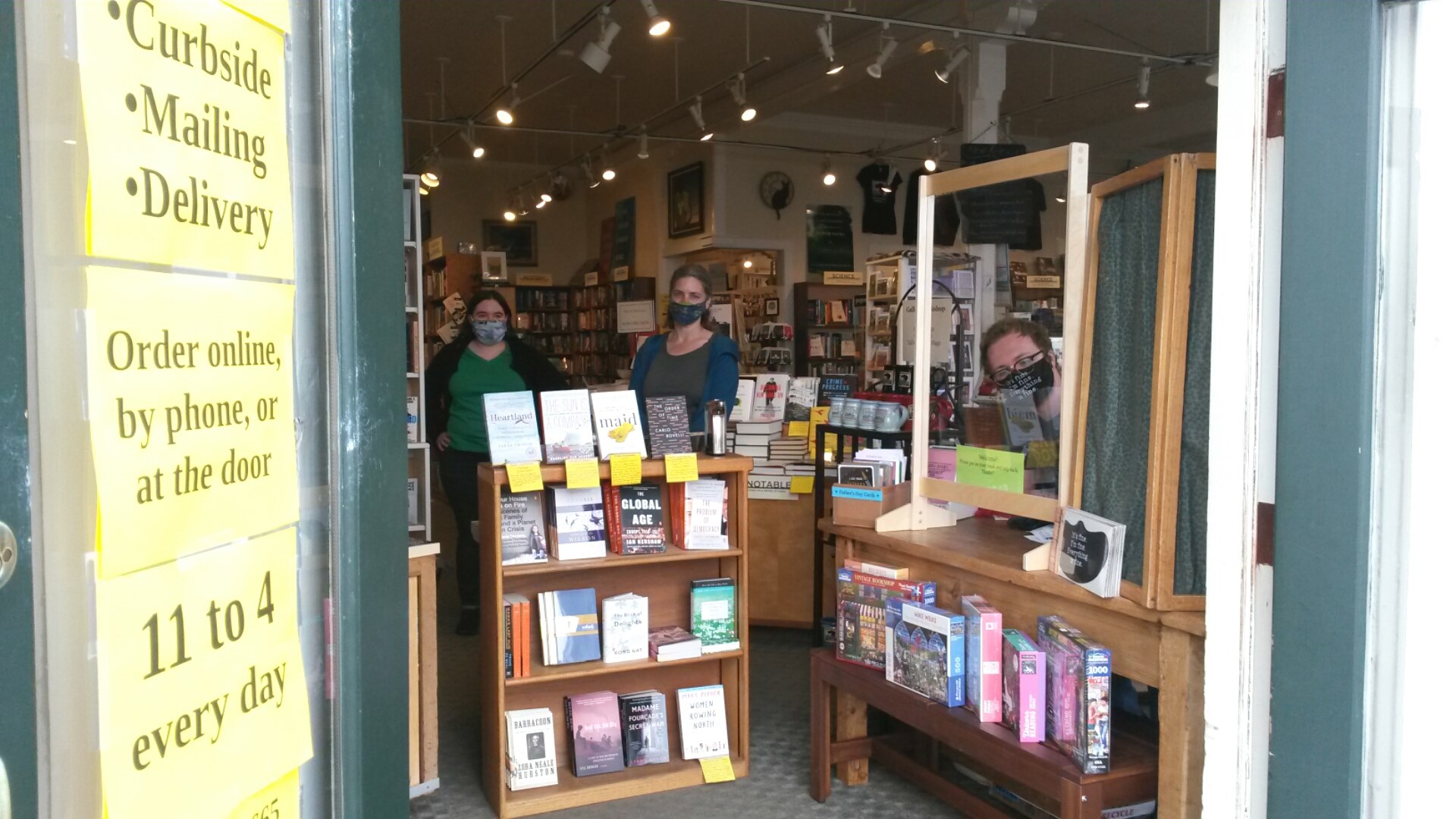 Welcoming customers to the store's foyer
Day said her store has been "obliquely affected" by the wildfires currently raging on the West Coast, with lots of evacuees coming to Mendocino and poor air quality. Usually she keeps all the doors open to help with ventilation, but there have been several days recently where they had to have the doors closed to keep the smoke out. On those days, Day added, they reduced their customer capacity even further and kept only the front doors open.
On the subject of ordering for the fall and holiday season, Day called it a "no-win" situation, with no single correct strategy. There's no way to know what to expect from the world outside the bookstore, so it doesn't make sense to order aggressively. At the same time, it seems clear that the supply chain is going to be stressed. She is ordering frontlist very conservatively but "going a little stronger" on her regular backlist orders. She's also gotten a head start on letting customers know what to expect.
Earlier in the summer, after protests began around the country in response to the murder of George Floyd, Day and her team used the cardboard inserts from their Ingram boxes to make Black Lives Matter signs and attended the first local march as a team. Afterward, they put those signs in the store's windows, where they remain.
"As a store, we've always been pretty forward about our politics, so it's interesting to me that this particular message has gotten more pushback than anything else we've done," said Day, noting that the store has regularly hosted progressive political action meetings and fundraisers. "To me, that reinforces the need to be vocal about it."
---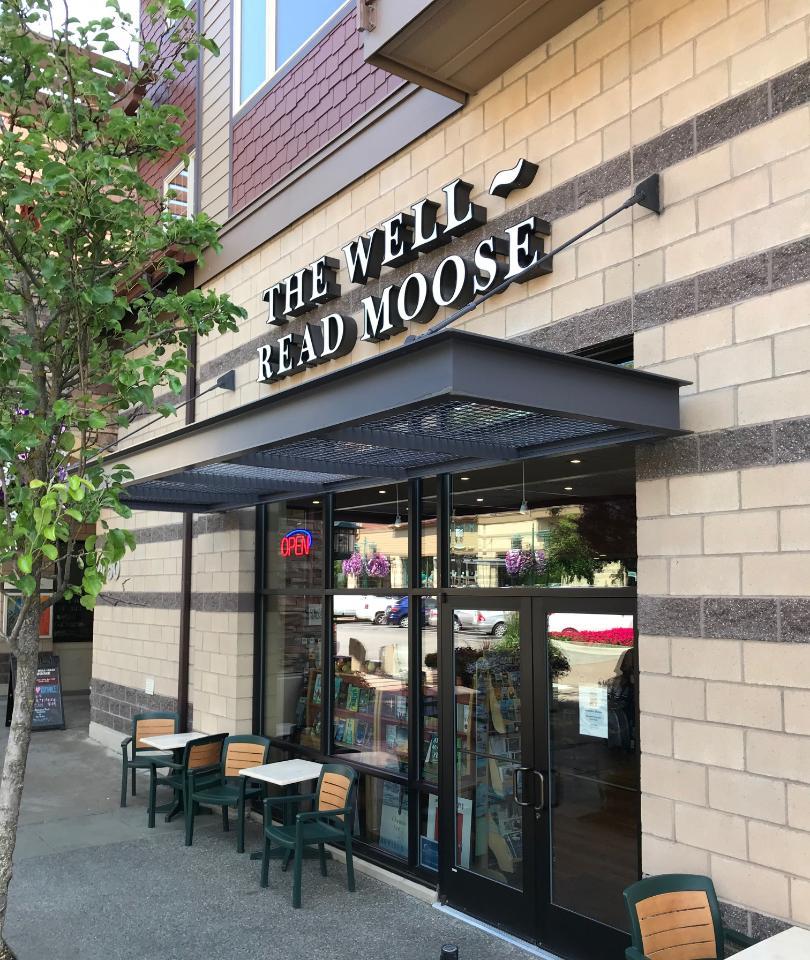 Melissa DeMotte, owner of The Well-Read Moose in Coeur d'Alene, Idaho, reported that her store was closed for a total of five weeks and reopened on May 1 with a limit of 10 customers in store. DeMotte and her team separated the store's three checkout counters by setting up tables that were previously in the store's cafe. She noted that the cafe had closed prior to the pandemic, due to a flood on New Year's Eve. They also added an air purifier to their HVAC system, so staff would feel comfortable closing the doors due to weather.
Customers are required to wear masks, and DeMotte said that has drawn quite a bit of negative feedback both in person and on social media. Despite the existence of a health district mandate, there is a loud group in the community who refuse to wear masks. When those folks come to the store, DeMotte and her staff offer appointment shopping or curbside pick-up, but they don't want that.
"We have lost business from this and have no idea what the longer-term ramifications for the store will be," continued DeMotte. "Hopefully we've made other folks happy to shop in our store with our safety protocols."
The Well-Read Moose is still buying by season, but the store has reduced its frontlist orders by about 20%. Gift-buying decisions have been particularly challenging, and DeMotte noted that the store is trying a few new lines as well as increasing the puzzles and games selection. They've added a gift store section to their website, and while it hasn't gotten much traction yet, DeMotte hopes to drive holiday shopping traffic there.
Overall, this summer was less busy than last year. There were a lot of tourists, but few locals brought their families to the shop. And while book sales were down a little bit, gift and greeting card sales were down significantly.
Throughout the summer, DeMotte and her team have made an effort to display more books by and about BIPOC, and they plan to extensively feature more of these titles in the holiday catalog. DeMotte added that her customers have shown a lot of interest in these titles so far. She also noted that there are many "local militia folks" in the community who have come out during protests allegedly to "protect" downtown. So far, at least, DeMotte has not had any trouble from them. --Alex Mutter