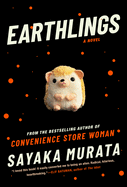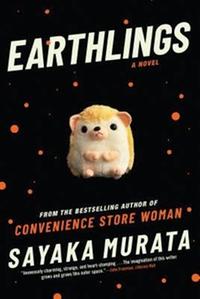 Sayaka Murata's Earthlings, translated from the Japanese by Ginny Tapley Takemori, is a shocking allegory about the consequences of nonconformity. Natsuki begins her story in childhood, when she recognizes, with a dispassion that sets off early alarms, exactly what is expected. "I was a tool for the town's good, in two senses. Firstly, I had to study hard to become a work tool. Secondly, I had to be a good girl, so that I could become a reproductive organ for the town." Natsuki is an outlier in a conventional family and is comforted by Piyyut, a toy that she thinks is animate and from another planet. Her cousin Yuu, of similar age, is also a family outsider who believes he's an actual alien. "I had the feeling he might disappear at any moment. I wanted to become an alien, too, and I felt jealous of him having somewhere to go home to," says Natsuki.
When a teacher rapes Natsuki and no one believes her, she says, with customary understatement, "It's really hard to put into words things that are just a little bit not okay." Readers, in detail, know how "not okay" it is. But Natsuki's tendency to view herself with clinical detachment isn't foolproof, and her harrowing reaction to this abuse is the first indication she's approaching a disassociation from which it will be hard to return. Later Natsuki, traumatized from the rape, and Yuu, both still children, orchestrate a "marriage ceremony" that involves sexual activity. They're discovered, and Natsuki and Yuu will not see each other for years.
As an adult, Natsuki has a sham marriage to Tomoya, who, like her, eschews gender and societal expectations. "Everyone was brainwashed by the Factory and did as they were told," she says. "They all used their reproductive organs for the Factory and did their jobs for the sake of the Factory. My husband and I were people they'd failed to brainwash, and anyone who remained unbrainwashed had to keep up an act." After Natsuki and Tomoya travel to her grandparent's house, and Yuu is there, the three make one last stand against conformity, leading to a grotesque and unexpected twist that is not for the squeamish but which punctuates their compelling desire for metamorphosis. Perfect for fans of Chuck Palahniuk and Ottessa Moshfegh, this worthy follow-up to Murata's acclaimed Convenience Store Woman will stay with readers long after the story is over. --Cindy Pauldine, bookseller, the river's end bookstore, Oswego, N.Y.
Shelf Talker: A young girl grows into adulthood believing that she doesn't belong on this Earth in this shocking story about the consequences of nonconformity in a society with rigid expectations.