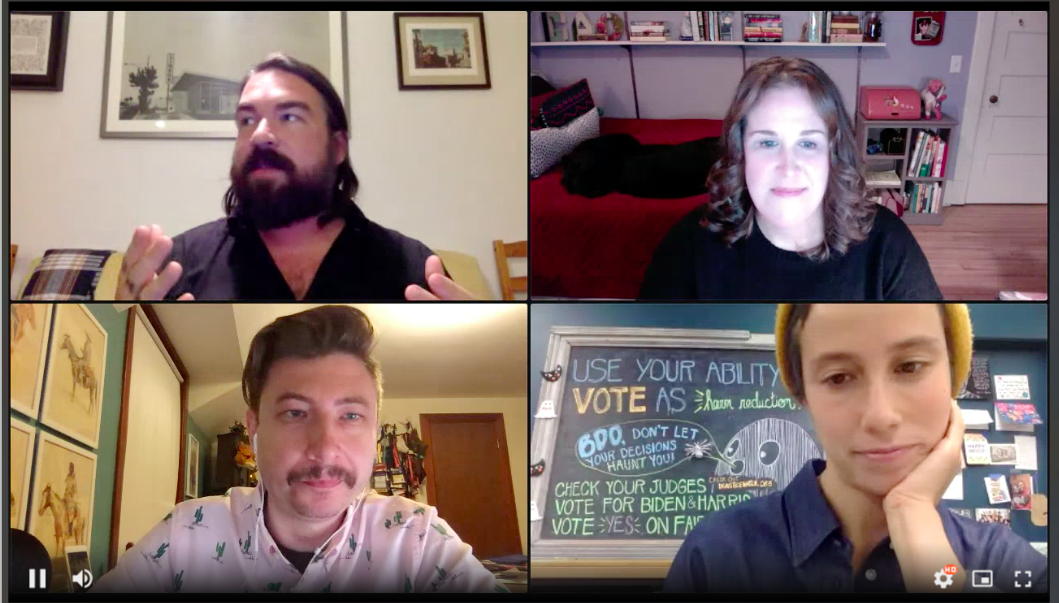 Clockwise from top left: Isaac Fitzgerald, Carrie Obry, Ida Cuttler and Larry Law
The winners of Heartland Booksellers Awards were announced last night during a lively online event hosted by Ida Cuttler of Women & Children First bookstore, Chicago, Ill., and Isaac Fitzgerald, author of the picture book How to Be a Pirate and two adult books about tattoos.
Carrie Obry, executive director of the Midwest Independent Booksellers Association, and Larry Law, executive director of the Great Lakes Independent Booksellers Association, started the ceremony. They noted that the Heartland Summer, which began in June and wrapped up last night, offered 23 events, with more than 680 total attendees, and the related videos have been watched more than 2,100 times.

The winners of the 2020 Heartland Booksellers Awards (with selected comments from the recipients):
Fiction: Everywhere You Don't Belong by Gabriel Bump (Algonquin). "Thank you especially to all you wonderful Midwestern booksellers. My fondest memories of touring are something I'll always remember in what we now call 'the before times'--just traveling across the Midwest and chatting with you about your favorite recent titles and what excites you about literature. As you can probably tell from my writing, there aren't many places in America where I, a young Black man, can feel anchored and secured and safe. Bookstores have always given me a place to feel like myself."
Nonfiction: In the Dreamhouse by Camen Maria Machado (Graywolf Press). "Thank you to the independent bookstores of the Midwest. I couldn't have done any of this without you."
Poetry: Homie by Danez Smith (Graywolf Press). "Thank you so much for all the work you do. My heart goes out to all the booksellers this year, to all of us in books this year. What a year it's been. Thank you so much for charging, for providing these escapes for all of us readers during these times we so desperately needed an escape and so desperately needed to plug into the world."
Young Adult Middle Grade: The Fountains of Silence by Ruta Sepetys (Philomel Books). "I want each and every one of you to know that you are heroes and you are lamplighters during a very dark time. Amidst this darkness, you are healing hearts, you are illuminating dark corners, and you are providing hope to so many readers, and that is the power of books."
Picture Book: A Map into the World by Kao Kalia Yang (Carolrhoda Books). "I want to thank all the booksellers out there, not only for this moment, but for all the moments before when I emerged as a young American writer, as a Hmong American writer, into the scene. It was first your bookstores that sold my books. You've given me time to mature and grow this craft that I love and for that I thank you."