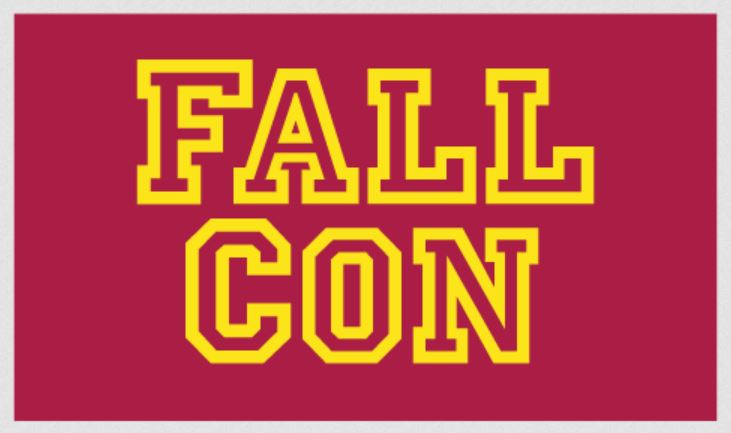 "There's an Irish phrase--'you're in your granny's'--and tonight I'm in my granny's," author Colum McCann said during last year's Gala Author Dinner Party at the Mountains & Plains Independent Booksellers Association's FallCon in Denver, Colo. "Because what that means is, you're with your friends, you're with your family, you're in a safe space. I do feel like I'm in a safe space with people that I've been working with now for over 20 years. And I'm delighted to be here."
In the devil year 2020, physical "safe spaces" may be at a premium, but when indie booksellers gather, even in the alternative reality of Zoom, they do what they've always done best--adapt, create and connect.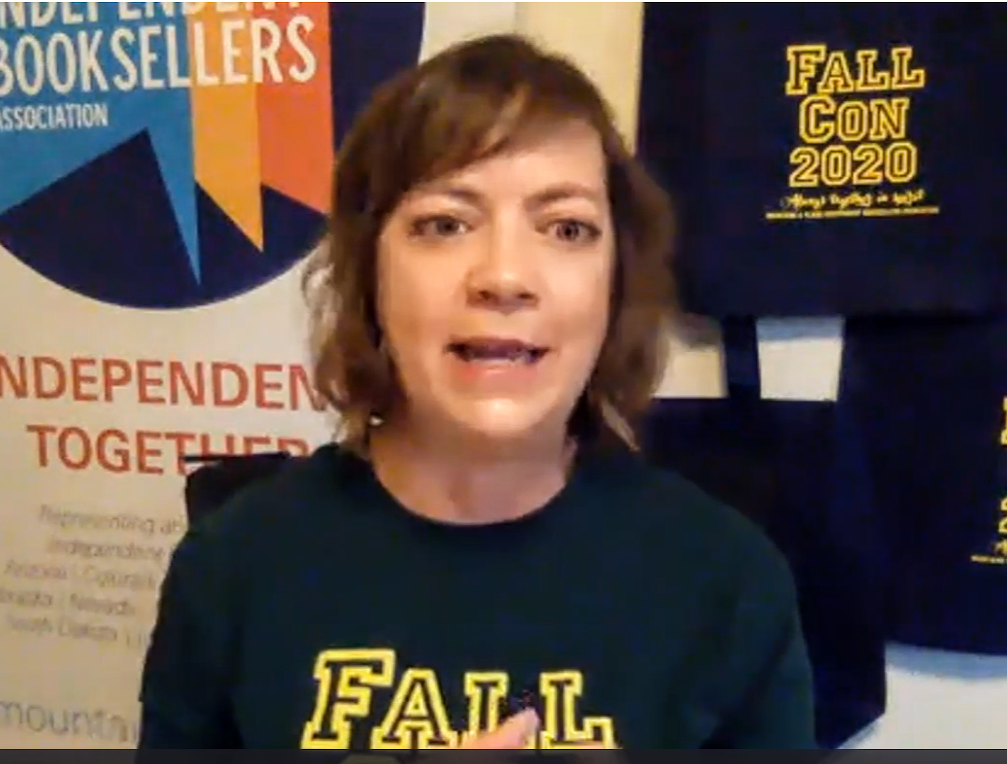 Heather Duncan
Noting that overall and individual event attendance at MPIBA FallCon 2020 "was great, and we're excited to have most of the show recorded and available for everyone to enjoy through the end of the year," MPIBA executive director Heather Duncan said: "While I felt confident in our author programming and our topics for education, it is always hard to imagine what will actually happen when you go live. In this virtual world, having few technology glitches and meaningful engagement feels like a win! The overarching sentiment of the show seemed to be 'so glad we can at least do this, but just wait until next year!' "
Duncan observed that she was surprised "with how connected I felt to everyone, and we heard that feeling expressed quite a bit in direct feedback and in the chats. Because there were opportunities to chat during events and connect face to face (screen to screen?) during Conversations with Colleagues, it really was somewhat like being together. These sessions were some of my favorite things about the show. There were just enough booksellers in each group to have really thoughtful (and useful) conversations. We had a moderator for each group to start and keep the conversation going, but we probably didn't even need them! Booksellers love to chat."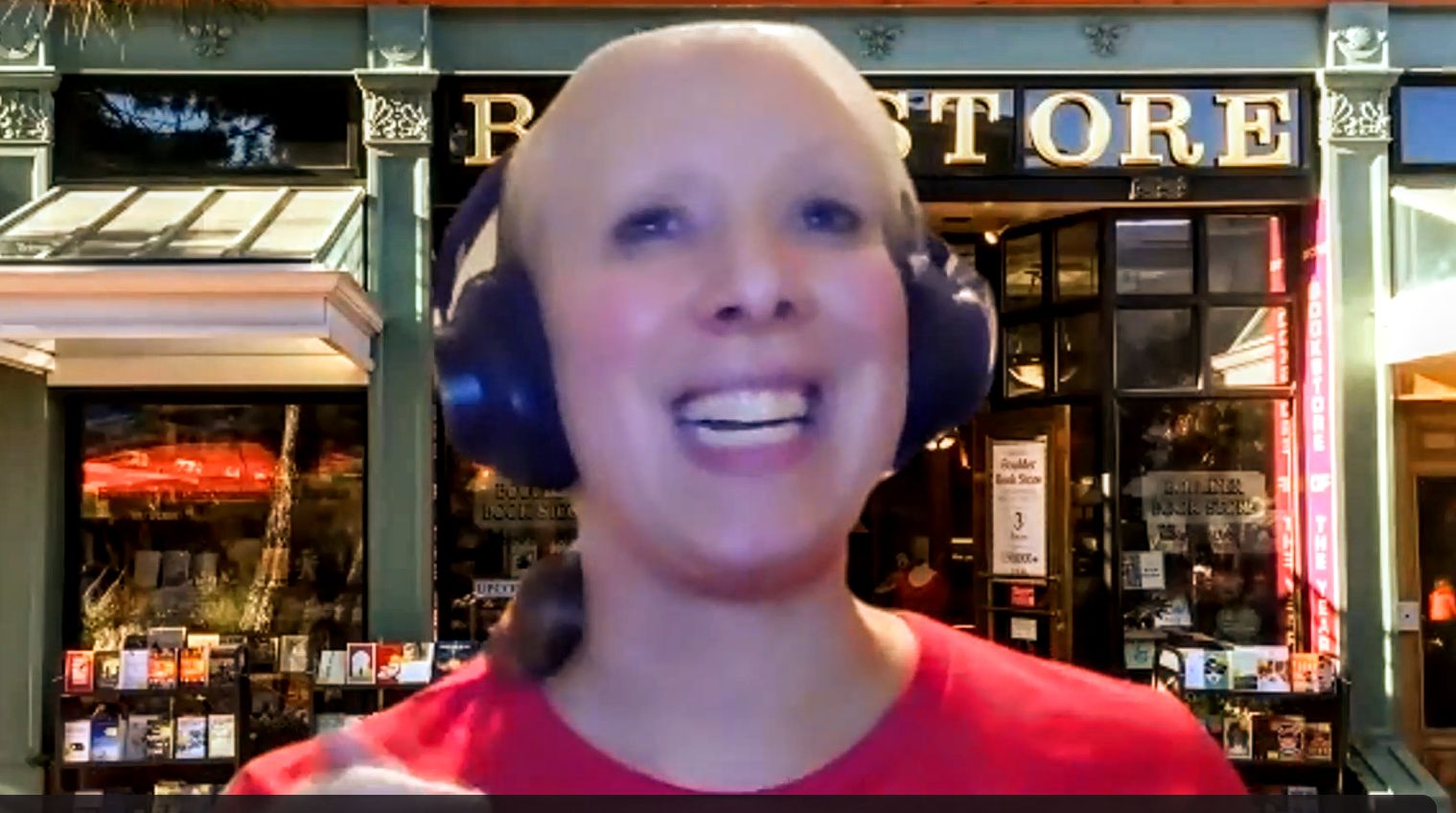 Stephanie Schindhelm
MPIBA board member Stephanie Schindhelm of Boulder Booksore, Boulder, Colo., agreed. "I went to Holiday Marketing Plans, Handselling When You Can't Handsell, and Successful & Profitable Virtual Events; and it was really nice to get a chance to see other booksellers and hear about what other stores have been doing during the pandemic. Honestly, these sorts of exchanges are some of my favorite things about indie bookstore gatherings in general, so I was glad that there was so much time put into these conversations. It's great to get ideas, but it's also comforting to hear that we're all going through similar struggles, and to just commiserate and know we're not alone out there."
Schindhelm added that she picked up some great ideas at these sessions, including "online wishlists (particularly for teachers and grandkids); doing themed days during the holidays where you put out lists of particular kinds of books (picture books, mysteries, romance) on particular days of the week across your online platforms; picking one book & gift item to feature per month. As I've been running all of our virtual events, it was also really great to hear from other stores hosting events about what's been working and what hasn't."
Attendees at the Buying in Challenging Times session "have asked to have regular, monthly buyer chats," Duncan noted. "We're going to have our first one next month and will start doing them regularly in the new year, along with owner/manager chats, marketing/events chats and frontline bookseller chats." She said the show's website "was bustling. Views of the homepage, individual event pages, Exhibit Hall, and of course the Author Event Galley Room were fantastic over the three days of the show. They were strong before, and we hope will continue to be, as we continue to promote the recordings and Exhibit Hall."
The virtual author events were also a hit. "Booksellers talked about which cocktails they chose for enjoying Keynotes & Cocktails, toasted with their 'brews' during Books & Brews, exchanged contact information during round-tables, and generally supported and engaged with each other. It was really cool to see," Duncan noted
Schindhelm hosted the festive Keynotes and Cocktails event, during which one of the guest authors, Rebecca Roanhorse (Black Sun, Gallery/Saga Press) said, "It's great to be here again. This time last year we were all together in Denver. It had just snowed. We weren't sure we were getting in and out of the airport. But I was there for breakfast.... And to be honest that feels like a lifetime ago."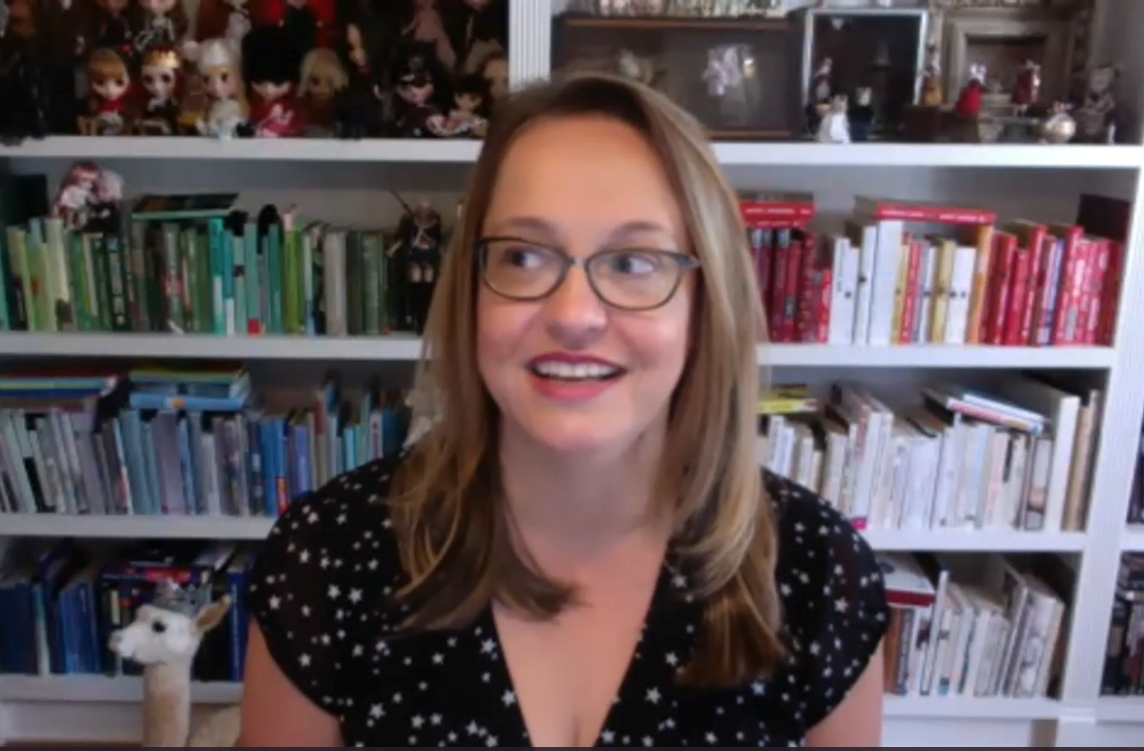 Jenny Lawson
That it does, but the FallCon 2020 indie spirit was summed up nicely by author Jenny Lawson (Broken (in the best possible way), Holt, April 2021), who also owns Nowhere Bookshop in San Antonio, Tex. As host of the Saturday Spotlight Keynote Authors event, she concluded by saying: "Libraries and bookstores are my sanctuary in the same way that I assume religious people feel when they go into a church. That's my safe place. That's it."
Which, I guess, is another way of saying "we're in our granny's."