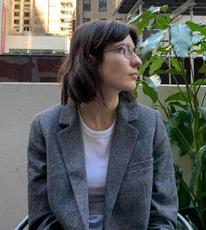 Emma Levy
With this issue, Shelf Awareness is pleased to welcome (back) former publishing assistant Emma Levy for her new comics column, "Panel Discussion."
Emma is a recent transplant to New York City via Seattle. Before working at Shelf Awareness, Emma was the fiction editor of the Bellingham Review, an editorial intern at Fantagraphics, a bookseller and a graduate student. She regularly writes for the Seattle Times and has also written for the Seattle Review of Books.
"Panel Discussion" will highlight new, under-the-radar and occasional backlist titles for booksellers and all who care to partake. Emma is drawn to slice-of-life comics, historical comics and comics that experiment with form and materiality. Most of all, she is drawn to a great story. She can be reached via e-mail here and on Twitter here. Check out her publications here.