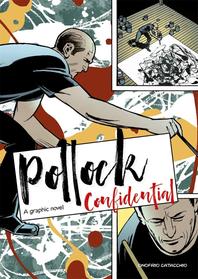 Pollock Confidential: A Graphic Novel by Onofrio Catacchio (Laurence King, $19.99, 9781786276223)
How did a "surly cowboy" with an "incredible talent" become an unwitting tool in the CIA's fight against communism? In Pollock Confidential, Onofrio Catacchio probes the bizarre story of the government's covert funding of Jackson Pollack's art through the eyes of the fictional agent overseeing his CIA file, Dan Adkins.
In Catacchio's imagining, Adkins installs himself in Pollack's life with the same inconspicuousness as Nick Carraway does in The Great Gatsby: as a mostly silent observer, occasional commentator, and keeper of history. Adkins's wistful reflections form the substance of the graphic novel and are the reader's gateway into Pollock's life.
Despite his documented Communist sympathies, it is not difficult to imagine why the CIA might have seen an opportunity in Jackson Pollock's work. "Today painters do not have to go to a subject matter outside themselves. The modern artist, it seems to me, is expressing an inner world--expressing the energy, the motion, and other forces," Pollock contends. A critique of this ethos might point out that his work is ripe for manipulation because it doesn't engage with culture or history, because it is purposely abstract. Even more, the ideology that underpins abstract expressionism--the primacy of expressing the individual identity--does not seem that far removed from the American ethos that the CIA was already evangelizing.
Pollock Confidential does not appraise or comment. Rather, it captures the insidious co-option of an American artist's legacy in a graphic novel that is very difficult to put down.
How to Handsell: Through a mix of fact and fiction, Onofrio Catacchio explores the impact that Jackson's Pollock's biggest patron, the Central Intelligence Agency, had on the public reception of his work.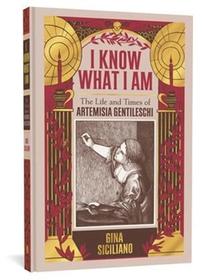 I Know What I Am: The Life and Times of Artemisia Gentileschi by Gina Siciliano (Fantagraphics, $29.99, 9781683962113)
In a decidedly personal introduction, Seattle artist Gina Siciliano describes her affinity for 17th-century Italian artist Artemisia Gentileschi. When she encountered Gentileschi's Judith Slaying Holofernes in Florence's Uffizi Gallery, she immediately recognized something in the face of the Judith as she worked on slicing the Assyrian general's neck with a sword: "a determined, vengeful rage, a feeling within many survivors, either suppressed or embraced, or both." Despite the great number of years separating these women, they both found a redemptive feminine force in their artistic practices.
Gentileschi was a history painter who worked in the brutal, realist style of Caravaggio. Many of the women depicted in her portraits bore a resemblance to herself; thus, it was natural for someone like Siciliano to plumb Gentileschi's past for connections to her art. Her father, Orazio Gentileschi, was one of Caravaggio's largely forgotten contemporaries. His friends were drunks, street fighters, criminals and creeps who attempted to become part of Artemisia's life despite her own expressed desire to be an "honorable woman" and to focus on her craft.
I Know What I Am is Siciliano's imagining of Artemisia Gentileschi's life and her forgotten legacy through a contemporary feminist framework. Immaculately researched and grounded in historical fact, Siciliano's re-creations of Gentileschi's conversations sometimes play out like documentary reenactments; they seemed primarily designed to convey seminal events rather than represent the day-to-day nuances of her life. The result is a new kind of art history book, a graphic novel that features stunning reproductions of Gentileschi's greatest works and is incredibly readable given the expertise it expresses.
How to Handsell: Gina Siciliano's impressive illustrations and dynamic reimagination of Artemisia Gentileschi's life would appeal to readers who are looking for a new feminist hero or just want to learn about the Baroque period.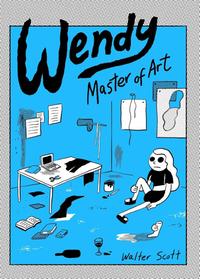 Wendy, Master of Art by Walter Scott (Drawn and Quarterly, $24.95, 9781770463998)
In his latest entry into his Wendy series, cartoonist Walter Scott examines the life of a different kind of "Master of Art" than Pollack or Gentileschi. The eponymous Wendy has begun a Masters of Fine Arts program at the University of Hell, where her vague studies are principally concerned with "materiality." Her colleagues, who paint flowers, study the relationship of poetry and fermentation, and explore the "semiotics of pissing," speak exclusively in critical theory jargon and deliver their often-nonsensical viewpoints with an uncompromising humorlessness.
Walter Scott's Wendy, Master of Art captures the ironies of higher education perfectly, as he makes clear that the real interest to many students lies in relationships, partying and similar extracurriculars, while the dedicated study of their given subject often feels like an unbearable chore.
After Wendy enjoys a night of partying, Scott inserts frames of total black between a half-eaten slice of pizza, an alarm clock reading 3:30 a.m., and a passed-out Wendy. In illustrations that might appear slapdash to some, Walter Scott uses the comic medium deftly. He is able to register emotional moments by slight, almost imperceptible changes on a character's face over a series of panels. His visual quips are incredibly well-executed and add an additional layer of meaning to the hilarious dialogue. Scott takes advantage of the many hidden possibilities of the comic medium for a story that could be told no other way.
As these young artists confront their own talent (or lack thereof), they are also dealing with the burdens of early adulthood and independence. Despite their hedonism, sloppiness and self-obsession, Scott's characters are clearly enriched by their experiences of genuine friendship, love and patience.
How to Handsell: Walter Scott's Wendy, Master of Art is a great pick for students, ex-students or anyone who likes to laugh.
--Emma Levy, freelance writer