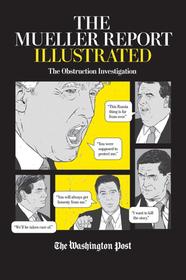 The Mueller Report Illustrated: The Obstruction Investigation by the Washington Post, illustrated by Jan Feindt (Scribner, $20, 9781982149277)
Do you remember when we waited with bated breath for Special Counsel Robert Mueller to release his findings? The investigation seemed to have no end in sight and then one day, it wrapped. I woke up early that April morning to get a copy of the New York Times, where the redacted report was printed on the front page, anticipating that the little I knew about its contents would constitute a significant moment in American history. Now, after an impeachment, a botched pandemic response and countless ethics violations, I shake my head at my childlike assumption that its contents, incriminating as they are, would represent anything more than one drop in a deluge of scandal.
Drawn by German illustrator Jan Feindt and composed of the rigorous reporting of the Washington Post, The Mueller Report Illustrated translates a key part of Robert Mueller's findings into a graphic novel--the investigation into President Trump's obstruction. The Post's timeline begins with then-campaign surrogate Michael Flynn's call with Russian Ambassador Sergey Kislyak after President Obama announced sanctions on Russia for its election interference. Assembled piece by piece, the Post's journalists track Trump's obstructive behavior with each tweet and as it manifests in his dinner with FBI Director Jim Comey and then his subsequent firing of Comey. In its reporting, The Mueller Report Illustrated reveals not just a pattern of obstructive behavior, but a president whose absolute need to be seen as the primary decision maker wreaks havoc on the efforts of those around him trying to protect him (see: the Lester Holt interview).
The Mueller Report Illustrated's palette of black, white and yellow serves to lay out Mueller's case in a lawyerly fashion, highlighting crucial details for readers. The graphic novel includes newspaper facsimiles and captures the body language of Trump and his cabinet officials with eerie accuracy. The Mueller Report Illustrated is a historical document, documenting in an accessible way many aspects of Trump's obstruction that weren't captured in the 24-hour news cycle.
How to Handsell: A peak into the machinery of a chaotic administration, The Mueller Report Illustrated outlines just one of many issues to bring to the polls,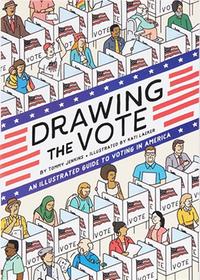 Drawing the Vote: An Illustrated Guide to Voting in America by Tommy Jenkins, illustrated by Kati Lacker (Abrams ComicArts, $24.99, 9781419739989)
Tommy Jenkins, an associate professor of English at Louisburg College in Raleigh, N.C., was inspired to turn the history of voting rights into a graphic novel around the time of the 2016 election, when he registered a deep apathy among his students, many of whom contemplated not voting. He felt that if his students understood how complicated the fight for voting rights had been for many citizens, they might be more hesitant to give up their franchise. The result, Drawing the Vote: An Illustrated Guide to Voting in America, is a civics course that spans decades, designed explicitly to be digestible.
Jenkins and illustrator Kati Lacker outline the voting-related history readers already have a passing familiarity with: the Boston Tea Party, the Seneca Falls Convention, the fight for voting rights led by Martin Luther King. But, importantly, they also give focus to bits of history that may have fallen through the cracks for readers. Jenkins writes about the 10 former Confederate states that changed their state constitutions after the 15th Amendment, to ensure the continued disenfranchisement of Black men. Later, Jenkins describes how frankly the late Republican political strategist Lee Atwater outlined the party's opposition to voting rights as embodied in the Southern Strategy. Atwater, in a racist and profanity-laced explanation, calmly details how it no longer benefited the Republican Party to yell the N-word, so rather, the party platform was boiled down to abstractions like "forced busing, states' rights, and all that stuff." Jenkins lays out the myriad ways that the Shelby County v. Holder Supreme Court decision of 2013 gutted the Voting Rights Act of 1965 by eliminating the federal preclearance required for new voting laws and policies in certain areas with a long history of voter suppression. In Drawing the Vote, Tommy Jenkins and Kati Lacker give readers the history of voting rights that underscores the high stakes of going to the polls this election.
How to Handsell: A panoptic history of the vote that breaks down everything from gerrymandering to Americans for Prosperity's dark influence, Drawing the Vote is a great pick for both adults and young Americans who want to understand what it means to be a voter.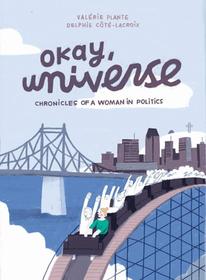 Okay, Universe: Chronicles of a Woman in Politics by Valérie Plante, illustrated by Delphie Côté-Lacroix (Drawn and Quarterly, $21.95, 9781770464117)
In the 2018 midterm elections, voters elected a record number of women to the House of Representatives. 2018 also saw record numbers of women running for Senate and gubernatorial seats. The same spirit that ignited the Women's March following the election of Donald Trump brought a new generation of candidates to politics on the local level. This spirit of grassroots activism is what inspires the heroine of Okay, Universe to enter the arena of Canadian politics when she is asked by a local progressive party to run for a seat on the Montreal City Council. Written by Montreal mayor Valérie Plante, who once occupied a similar council seat, Okay, Universe has echoes of autobiography, if not screams. But transforming Valérie Plante into everywoman Simone Simoneau has a powerful effect: highlighting the accessibility of community organizing for all who wish to get involved.
Illustrator Delphie Côté-Lacroix, whose art style is reminiscent of Over the Garden Wall or a Horace Pippin in pastels, draws profiles of the candidate and the volunteers who propelled her campaign to victory. Many chapters start with a frame that depicts a certain item that acts as a narrative motif: a bicycle helmet that comes to represent the many miles traversed by the candidate as she goes door-knocking or a bottle of hand sanitizer to represent the hundreds of hands shaken (rather than a dark portent of this year's pandemic). The most narratively satisfying sequences in Okay, Universe have no words at all and advance the story panel by panel and gesture by gesture, showing off Côté-Lacroix's talent for storytelling.
How to Handsell: An earnest and inspirational title with elegant illustrations for all who might wish to get involved in local politics (or read about getting involved in local politics).
--
Emma Levy
, Panel Discussion columnist and freelance writer