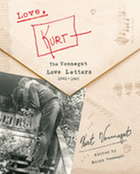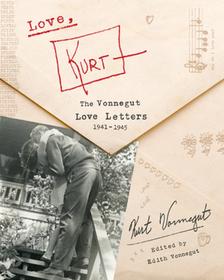 While browsing through the contents of her mother's attic, Edith Vonnegut made a remarkable discovery in the form of a white gift box. Inside this battered vessel she found 226 love letters written by her father, Kurt Vonnegut, to her mother, Jane Marie Cox, between 1941 and 1945.
At 19, the couple met at a dance at the Woodstock Country Club in Indianapolis and, from Kurt's letters, they seemed to form a swift and strong connection. Kurt was studying engineering at Cornell, always floating on the edge of academic probation; Jane studied literature at Swarthmore devotedly. Their letters--some typewritten, some written in pencil, many composed in some combination of the two with Kurt's drawings adorning the margins--represent not only a young love developing in the precarity of wartime, but the pure, imaginative work of a young writer who had yet to discover the extent of his talent.
Because the letters that make up this collection are written by Kurt to Jane, there is a natural imbalance in the narrative. Readers have access to Kurt's perspective, while Jane's can be interpreted only through Kurt's often meandering responses. But, as Edith Vonnegut points out in one of her occasional asides, Kurt's letters outnumbered Jane's six to one. She characterizes her father as the "primary pursuer." He often addresses her as "wife" and asks her to kiss sections of his letters to return to him. He drafts their future family crest, which features not just their names but a frothing mug of beer. He writes to her while on deployment, "I saw the Northern Lights for the first time in my life tonight. It was pretty much like kissing you." Kurt's letters contain no shortage of treacly proclamations of love. But they are pristine, wholesome expressions of youth communicated with the whole force of his being. His dexterity with language, his endlessly creative ways of conveying his obsession were early signs of his phenomenal talent.
In December 1944, Kurt was captured in the Battle of the Bulge and held as a POW in a Dresden slaughterhouse. His release in May 1945 marked a crucial change in his relationship with Jane. They married that September, and their remaining letters, written from Fort Riley, where Kurt was finishing his army obligations, reveal a mutual intimacy hard to find in earlier correspondence. Kurt's letters, once filled with poems, drawings and pleas designed solely to win the love of Jane, become the means by which Jane reads and edits Kurt's earliest stories. --Emma Levy, writer
Shelf Talker: The intimate love letters that fill Love, Kurt feature the imaginative and unmistakable literary voice of Kurt Vonnegut decades before his first literary success.