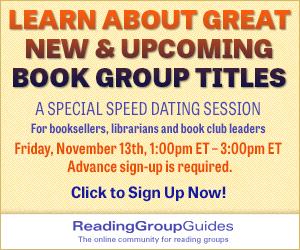 ReadingGroupGuides is hosting a virtual Book Group Speed Dating event this Friday, November 13. Scheduled to run from 1 p.m. to 3 p.m. Eastern, the event will feature representatives from 18 publishers sharing new and upcoming titles that they think will be great fits for book groups. Advance sign-up is required, and e-galleys will be available for selected titles.
Participating publishers include Agate, Bellevue Literary Press, Bloomsbury, Dzanc Books, Grove Atlantic, Harlequin, Houghton Mifflin Harcourt, Knopf, Milkweed Editions, Random House Publishing Group, Red Hen, Simon & Schuster, Soho Press, Sourcebooks, Tin House, Welbeck, William Morrow and W.W. Norton.
Interested parties can register here.