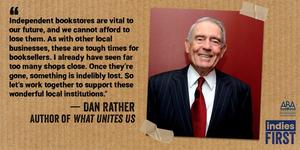 If ever there was a year when Indies First/Small Business Saturday might present obstacles too great to overcome, 2020 would have been it. But as they have since last spring, independent booksellers played the hand they'd been dealt by the Covid-19 pandemic and found creative ways to celebrate anyway.
Indies First 2020 spokesperson Dan Rather tweeted: "Folks, INDIE BOOKSTORES are invaluable pillars of local communities. Many are struggling. Please support them during this crucial holiday shopping season. TODAY, #SmallBusinessSaturday is a great day to do it."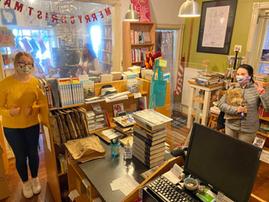 At Let's Play Books in Emmaus, Pa.
"It is Small Business Saturday--and boy does it look different this year!" Let's Play Books, Emmaus, Pa., posted on Facebook. "We hope you and your loved ones are shopping local this year, and of course, safely. Our independent shops need your business, but we also can't accommodate loads of people at one time. However, thanks to Emmaus Main Street Partners, and today's lovely mild weather, you can walk around town and get a feel for the shops that are here for you this holiday season."
In Kailua-Kona, Hawaii, Kona Stories shared a video: "Welcome to Small Business Saturday... pandemic style!" Co-owner Brenda McConnell told West Hawaii Today: "The major difference is we're not trying to have so many people at one time in the store. We're trying to encourage people to shop local, shop often--but don't all come on one day."
Former President Barack Obama, a longtime supporter of books and booksellers, noted: "While in office, one of our family's traditions was visiting a couple of nearby small businesses for Small Business Saturday--and we'd always make a stop at a bookstore to find some books to read for the holidays. Although everyone's traditions might look different this year, we can still find ways to support these terrific small businesses. So I hope you'll take a minute to order a book online from an independent bookstore near you."
Also offering her support was former First Lady Michelle Obama, who gave a shoutout to indies: "One thing I'll always remember from my #IAmBecoming tour is seeing the crucial role that independent bookstores play in so many communities. On this Small Business Saturday, show your support by ordering a book from an independent bookstore online."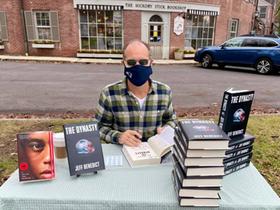 Taking advantage of mild weather, Hickory Stick Bookshop, Washington Depot, Conn., hosted an outdoor signing for Jeff Benedict, author of The Dynasty.
In New York City, local politicians showed up at the Strand: "Talk about a #SmallBusinessSaturday surprise! Mayor Bill de Blasio, First Lady Chirlane McCray, Rep. Carolyn B. Maloney and other city officials came to The Strand to pick up some fresh reads and encourage everyone to #ShopLocal. Thank you NYC Mayor's Office for supporting our local #NYC businesses and visiting The Strand." De Blasio bought Obama's A Promised Land.
And in Perrysburg, Ohio, Gathering Volumes' "first #SmallBusinessSaturday customer was none other than the @mayor_of_perrysburg! We are so appreciative of the support from our local officials!"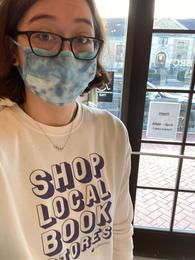 Bookseller @mattiereads showing off her Libro.Fm sweatshirt.
To encourage readers to #ShopLocalBookstores, Libro.fm offered a free bestselling audiobook to anyone who spent at least $15 at a local bookstore over the holiday weekend. As of noon Sunday, Libro.fm had given away more than 2,000 audiobooks and driven over $100,000 in sales at local bookstores, with nearly $50,000 of sales occurring on Indies First/Small Business Saturday. The promotion started last Wednesday and runs through Cyber Monday.
This was the first Small Business Saturday for the recently opened Beausoleil Books in Lafayette, La. Describing the community as "really awesome and supportive" of the store, including on its first Small Business Saturday, owner Bryan Dupree told KATC News: "People have been ordering online to pick up, those who don't want to come into the store, which has been great. But we had a good amount of traffic in the store. People are coming in and buying unique books and gifts. We're very excited about it. It has been awesome."
Noting that small business owners in Naperville, Ill., "rely on the holiday shopping season for a good chunk of their annual sales," the Chicago Tribune spoke with Becky Anderson, co-owner of Anderson's Bookshops, who said: "For a lot of us, that last quarter of the year can be 40% to 50% of sales. The mantra my grandma had was 'support local business'.... We're all doing what we can to to get through this. The survival of small businesses is essential."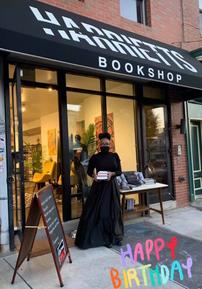 Celebrating at Harriett's Bookshop in Phliadelphia
The true spirit of Indies First/Small Business Saturday may have been summed up best by a series of Facebook posts from Jeannine A. Cook, owner of Harriett's Bookshop, Philadelphia, Pa.: "This year for my birthday (which just happens to fall on Small Business Saturday), I want to give the gifts. That's why you can add a FREE children's book of your choosing to ANY in store purchase today. My goal is to give away 100 FREE children's books.... Wow! 100 books out to the children in our community in less than 2 hours. Yall be showing out.... Thank you all for making it the best birthday EVAH!"