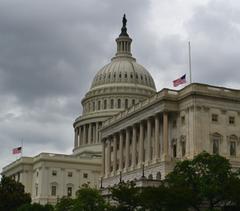 The rioting, terrorism and attempted insurrection in Washington, D.C., yesterday caused the early closings of a range of bookstores in the capital and cancellations of events, with many stores closing before the 6 p.m. curfew.
Loyalty Bookstore closed its store in D.C. as well as its suburban Silver Spring, Md., location at 5 p.m. "so our staff can get home safely" before the curfew. Loyalty also canceled last night's PJ Storytime but went ahead with its 8 p.m. event. Today it is opening both stores at noon, as planned, and for now, will continue with scheduled events.
Solid State Books closed at 4 p.m., adding, "Please stay safe out there."
Politics & Prose closed all its stores at 5 p.m
Around 3:30 p.m., Kramerbooks tweeted that it was closing immediately, adding, "Please stay home and stay safe."