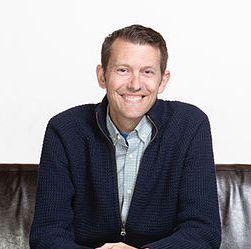 Brandon Terrell, the author of many children's books and a writer for The Choo Choo Bob Show, an educational children's television program about trains, died on Monday, January 4. He was 42.
Terrell wrote nearly a hundred books for kids, including picture books, chapter books, and graphic novels that ranged from sports stories to spooky tales and mysteries. His work included the Horrorwood comic book series with illustrator Brent Schoonover, six volumes in the Tony Hawk's 900 Revolution series, and several Sports Illustrated Kids graphic novels. His most recent books, published last fall, are Archie Strikes Gold (Capstone/Smithsonian); two Michael Dahl Presents: Mysteries: The Incredible Shrinking Horror and The 30,000-Foot Ghost (Capstone); and two Jake Maddox graphic novels: A Taste for Victory and Home Ice Rivals (Capstone).
Terrell was a graduate of Hamline University's MA program in Writing for Children and Young Adults. While at Hamline, he received the Herman W. Block Award, a scholarship judged by Kate DiCamillo.
Terrell's friend David Beard, a professor at the University of Minnesota-Duluth, commented: "Somewhere, out there, today, there are children who love sports and came to love reading through his Jake Maddox graphic novels. There are readers who discovered Robin Hood by taking a role in choosing their path through the story (in Howard Pyle's Merry Adventures of Robin Hood: A Choose Your Path Book). And there are children writing their own mysteries in spiralbound notebooks because of the passion ignited by his Snoops, Inc. novels."
Beard added: "I met Brandon when we were both booksellers at Barnes & Noble. We were friends the way co-workers become friends, and when he began working in comics and attending conventions, I read Horrorwood and promised myself that I would 'catch up' on my friend's work. And the list of books got longer and longer and I didn't realize that the time was so short."