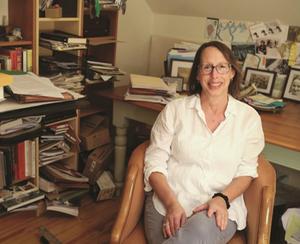 photo: Melanie Maganias Nashan
Jamie Harrison, who has lived in Montana with her family for more than 30 years, has worked as a caterer, a gardener and an editor. She is the author of the Jules Clement mystery series and The Widow Nash, a finalist for the High Plains Book Award and the winner of the Mountains & Plains Independent Booksellers Association Reading the West Book Award. The Center of Everything (Counterpoint, January 12, 2020) is her sixth novel.
On your nightstand now: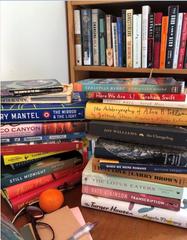 Providing a photo of the tower. I'm way behind, decades behind, so I try to follow a new release with something older that I missed, and sometimes a reread. I just finished the beautiful and brutal The Atlas of Reds and Blues by Devi S. Laskar and started The Transit of Venus by Shirley Hazzard. I'm reading Meander, Spiral, Explode by Jane Alison in between, to try to remember how to write a book.
Favorite book when you were a child:
Childhood feels pretty endless, but let me pick grade school--maybe The Horse and His Boy by C.S. Lewis or Harriet the Spy by Louise Fitzhugh. The hidden valley in Walter Farley's The Black Stallion, the hidden garden in Frances Hodgson Burnett's The Secret Garden--I seemed to have a thing for disappearing into my own hidden kingdom, and what else is reading? When I was trying to spend time in my eight-year-old brain while writing The Center of Everything, I realized some illustrations stuck with me far longer than the words. The way a book made you feel, rather than the language or the plot.
Your top five authors:
Sticking to people who are living, and most recently on my mind: Peter Carey, Hilary Mantel, George Saunders, Lauren Groff, Shirley Hazzard. I want to name another 20, at least.
Book you've faked reading:
I lied about reading A Man Without Qualities by Robert Musil to impress a man (possibly without qualities) when I was in my 20s. It's still on the shelf, goading me. Mostly I try to keep my mouth shut.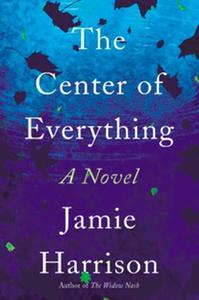 Book you're an evangelist for:
Most recently, Francis Spufford's vivid and oddly sweet Golden Hill, and Tom McGuane's short story collection Cloudburst. Always: Michael Ondaatje's The Collected Works of Billy the Kid and Louise Erdrich's The Last Report on the Miracles of Little No Horse. She slides one of the best love affairs in literature into about three pages.
Book you've bought for the cover:
Two I would have bought eventually anyway, but beauty made them irresistible: Margaret the First by Danielle Dutton and Gould's Book of Fish by Richard Flanagan.
Book you hid from your parents:
It wasn't that kind of house--they probably should have hidden the racier stuff from me. I was ridiculed during an early teen binge on Daphne du Maurier, Mary Stewart, Mary Renault, Ian Fleming.
Book that changed your life:
Impossible to track, but maybe Songlines by Bruce Chatwin. It somehow made the world temporarily fall into place when I was in college, back when I hoped to possess every country.
Favorite line from a book:
I used a line about another great love affair from Richard Flanagan's Narrow Road to the Deep North as an epigraph in The Center of Everything: "This beautiful sound. Like you're thrown a plum and an orchard comes back at you."
But in these troubled times, and given that I'm working on a mystery, instead of the dozen poems I'd love to cite I'll go with glorious silliness:
"Unseen in the background, Fate was quietly slipping lead into the boxing-glove." From Very Good, Jeeves by P.G. Wodehouse.
Five books you'll never part with:
I'm an idiot--I loan books out. The ones I've replaced most often are an odd collection: Toni Morrison's Beloved, Peter Matthiessen's At Play in the Fields of the Lord, Kate Atkinson's Case Histories, Lily King's Euphoria, Denis Johnson's Train Dreams. But I'll never loan my father's battered paperback copies of Lorca, Rilke, Whitman.
Book you most want to read again for the first time:
Love in the Time of Cholera by Gabriel García Márquez, for the sense that my heart could actually blow up.