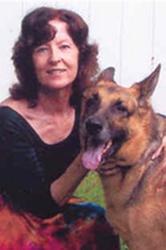 Sharon Kay Penman
Sharon Kay Penman, the historical fiction author best known for her Plantagenet Series, died last Friday at the age of 75.
Penman wrote her first novel while she was still a student. Entitled The Sunne in Splendour, it focused on Richard III and the War of the Roses. The manuscript, however, was stolen from her car, and Penman could not bring herself to rewrite the book for years. Eventually, while working full-time as a tax attorney, Penman did rewrite it, and The Sunne in Splendour was finally published in 1982.
After that, she quit her job to write full time, publishing the Welsh trilogy (Here Be Dragons; Falls the Shadow; The Reckoning), about Llewelyn ap Gruffydd, grandson of Llewelyn the Great, and then the Plantagenet Series, about King Henry II and Eleanor of Aquitaine. That series began with When Christ and His Saints Sleep, and the second book in the series, Time and Chance, became her first New York Times bestselling novel. While she initially envisioned the Plantagenet series as a trilogy, she continued the story with two more novels focused on Richard the Lionheart, the son of Henry II and Eleanor of Aquitaine.
Penman also wrote a series of historical mysteries featuring Justin de Quincy, a fictional character who works for Eleanor of Aquitaine. The first of these books, The Queens Man, was a finalist for the Edgar Award for Best First Mystery. Her last novel was Beyond the Sea, published in 2020.