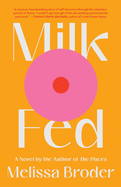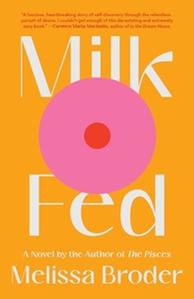 Rachel, the heroine of Melissa Broder's agitated sophomore novel, Milk Fed, is a need machine. At 24 years old, she has a desk job at a talent agency in Los Angeles, a gym membership she uses daily, a therapist she meets with weekly and deep-seated mother issues that express themselves through obsessive, highly controlled food rituals and bizarre sexual fantasies. Shaped by a lifetime of maternal nit-picking and neglect, Rachel's diet consists of nicotine gum, low-fat chocolate muffin tops and the small dopamine hits garnered when co-workers and acquaintances tell her that she looks too thin. Her compulsions, which set the novel's pace to a manic tempo, emanate from a deep reserve of endlessly unmet desire. In the skilled hands of Broder, this broad and often unspecified desire, on which her character's entire way of being is predicated, continually changes shape.
During a 90-day therapist-prescribed "emotional detox" from her mother, Rachel finds that her mother's critical voice, which long ago established itself as her inner monologue, becomes muted when a kind, overweight frozen yogurt chef enters her life. Miriam smokes clove cigarettes, watches old movies, drinks massively caloric fruity cocktails and eats whatever she wants, as long as it's kosher. Blessedly unburdened by the neuroses that govern Rachel's life, Miriam becomes a multi-faceted object of obsession for her: first, as the embodiment of her worst fears, then as a mother figure and, finally, as a lover.
A credulous reader might catalog Milk Fed as a tender lesbian romance, but a more critical reader will recognize its winking irreverence, its tongue-in-cheek chronicling of a profound emotional collapse. Broder's meticulous characterization of a woman completely controlled by her appetites brings readers to the same lengths of desperation and hunger that define Rachel's daily experience. The raunchy and nihilistic tone of Milk Fed is reminiscent of the works of Miranda July, Chris Kraus and Ottessa Moshfegh, who've all written love stories more likely to make readers cringe rather than swoon. Like these contemporaries, Broder expertly unsettles her readers not just by pushing her character to extremes, but by revealing the strikingly reasonable path that led her there.
"More than anything, all I'd ever wanted was a total embrace, the embrace of an infinite mother, absolute and divine," Rachel explains. The absence of maternal love in her life is what sends her on an ill-fated quest to search for its vital nourishment in every inappropriate place she can find. The result is a Freudian fable of sorts, one that is hilarious, self-deprecating and full of Broder's signature profligate brilliance. This visceral and transporting portrait of self-denial and its twin, excess, sheds light on the psychology underpinning the American obsession with weight. Daring, chaotic and pleasingly heretical, Milk Fed is the work of a total pro. --Emma Levy, freelance writer
Shelf Talker: Melissa Broder's Milk Fed is smutty exploration of the healing and punishing potential of food.