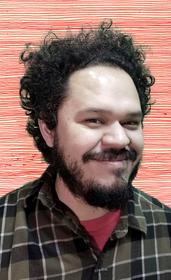 Raúl the Third is currently working on the expanded world of his Vamos! series and illustrating the fourth volume of the Lowriders series, written by Cathy Camper. He grew up in El Paso, Tex., and Ciudad Juárez, México, and now lives in Boston with colorist and collaborator Elaine Bay and their son, Raúl the Fourth. Last week, he won the Pura Belpré Illustrator Award for ¡Vamos! Let's Go Eat! published by Versify/HMH.
How does it feel to get the Pura Belpré Illustrator Award? Especially for the second in a series, the first of which, ¡Vamos! Let's Go to the Market, won a Belpré Honor?
This is the second Pura Belpre medal I have received, the first one was for Lowriders to the Center of the Earth, which was also the second in a series! I am so incredibly happy that my books have been honored three times with this prestigious award. The Latinx cultural experience is vast, and I hope these books inspire more kids to grow up with the confidence to share their own stories and origins.
Is there anything affirming or maybe bittersweet about winning this award for the second of these books?
These awards have given me so much confidence in the books I want to continue to create. I feel like the luckiest person on the planet!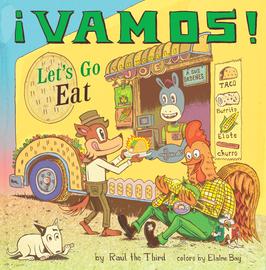 You're in the process of expanding the world of Vamos!, correct? What can we look forward to in upcoming titles?
By 2023 there will be at least 10 World of Vamos! books out on the shelves. The World of Vamos! is an ever-expanding universe. There will be more Let's Go books featuring Little Lobo and his delivery service. El Toro and Friends will have their own adventures in an early reader series that is inspired by superhero team books and luchadores! Plus, we will have a super-cute board book series featuring everybody's favorite cockroach, Coco Rocho.
Beyond that I can't really say but I imagine Saturday morning cartoons and toys!
What was your inspiration for the first book in the series? What has pushed you to develop that world further?
It's been my dream to create my own cartoon/comic book universe since I was a child. I started to lay down the foundation for this world in ¡Vamos! Let's Go to the Market. I remember telling Margaret Raymo that I wanted to work on this series and these characters for the next 20 years! After the first book, I pitched the spin-off titles--I can't wait for them to hit the shelves in April and September of this year.
Has this past year changed your artistic process at all?
Since I am now writing and illustrating my books, I have become much more efficient in the process. I also work with Elaine Bay, the colorist in the series, and I draw with her in mind. I also have fun linking all of the books together by having special guest appearances and Easter eggs throughout the books!
What are you hoping readers take from ¡Vamos! Let's Go Eat!?
I have a great time creating these books so I hope my readers enjoy the experience of reading our World of Vamos! books. --Siân Gaetano, children's and YA editor, Shelf Awareness