Lawrence Ferlinghetti, distinguished American poet, artist and founder of City Lights Booksellers and Publishers in San Francisco, died February 22. He was 101 years old. In a tribute, City Lights noted that Ferlinghetti "was instrumental in democratizing American literature by creating (with Peter D. Martin) the country's first all-paperback bookstore in 1953, jumpstarting a movement to make diverse and inexpensive quality books widely available. He envisioned the bookstore as a 'Literary Meeting Place,' where writers and readers could congregate to share ideas about poetry, fiction, politics, and the arts. Two years later, in 1955, he launched City Lights Publishers with the objective of stirring an 'international dissident ferment.' [His own Pictures of the Gone World] was the first volume of the City Lights Pocket Poets Series, which proved to be a seminal force in shaping American poetry."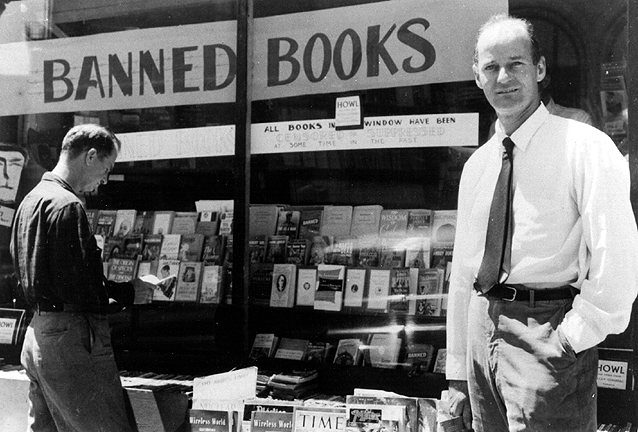 Ferlinghetti in front of City Lights, c. 1955
Ferlinghetti continued to write and publish new work until he was 100 years old. "For over 60 years, those of us who have worked with him at City Lights have been inspired by his knowledge and love of literature, his courage in defense of the right to freedom of expression, and his vital role as an American cultural ambassador," City Lights wrote. "His curiosity was unbounded and his enthusiasm was infectious, and we will miss him greatly. We intend to build on Ferlinghetti's vision and honor his memory by sustaining City Lights into the future as a center for open intellectual inquiry and commitment to literary culture and progressive politics. Though we mourn his passing, we celebrate his many contributions and give thanks for all the years we were able to work by his side."
Paul Yamazaki, City Lights buyer and a close friend, told Hoodline that while Ferlinghetti's death is a huge loss, he hopes people can celebrate his life: "That's what he would want. As we are all aware, it was quite a life. It's like the sun and moon, and it's going to affect us for a long, long time in a really positive way.... As the years have passed, what was always important to Lawrence was that we continue the tradition at City Lights that has been established over the last 68 years. That's what we are going to do."
Nancy Peters, co-owner and retired executive director of City Lights, told the San Francisco Chronicle: "It was my good fortune to have worked closely with him for more than 50 years. We've lost a great poet and visionary. Lawrence--never Larry--was a legend in his time and a great San Franciscan."
Ferlinghetti's many poetry books include A Coney Island of the Mind, which was published in 1958 and has never gone out of print, with a million copies released in a dozen languages. His final book, the novel Little Boy, was published a week before his 100th birthday.
The Chronicle wrote that "his greatest contribution to the world of letters was as co-founder of City Lights, a paperback bookstore and propeller of the San Francisco Renaissance in poetry." As a publisher, one of his first books was Allen Ginsberg's Howl & Other Poems (1956), which was introduced at the famed Six Gallery reading on Fillmore Street in October 1955.
"Lawrence Ferlinghetti kicked open the door to free up publishing in this country," said San Francisco novelist Herbert Gold. "He risked a great deal for a lot of books that are now considered classics."
In a 2018 Chronicle interview, Ferlinghetti said of San Francisco: "It seemed like it was still the last frontier, which it isn't anymore. I mean, in 1951, it was a wide-open city, and it seemed like you could do anything you wanted to here. It was like there was so much missing that if it was going to be a real city, there was so much that it had to get, that it didn't have. And, for instance, as far as bookstores go, all the bookstores closed at 5 p.m. and they weren't open on the weekends. And there was no place to sit down. And there was usually a clerk on top of you asking you what you wanted.... And so the first thing I realized, there was no bookstore to become the locus for the literary community. It's really important if you're going to have a literary community, it has to have a locus."
From Ferlinghetti's "The World Is a Beautiful Place":

Yes the world is the best place of all
for a lot of such things as
making the fun scene
and making the love scene
and making the sad scene.

As Michael Barnard of Rakestraw Books, Danville, Calif., commented: "Today is a sad scene."