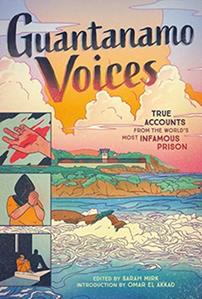 Guantánamo Voices: An Anthology: True Accounts from the World's Most Infamous Prison, edited by Sarah Mirk, various illustrators (Abrams ComicArts, $24.99, 9781419746901)
In a 2016 public forum, President Obama was asked: What advice would you give yourself if you could go back to the start of your presidency? His answer was "I think I would have closed Guantánamo on the first day." Under Trump's presidency, the institutional will to keep the facility open only strengthened. Today it still stands, with an alarming record of only 16 detainees prosecuted or even charged out of the 799 held in its 20-year history. In an anthology of interviews from lawyers, military officials, and former detainees, journalist Sarah Mirk confronts a part of our recent history many prefer to forget.
Guantánamo Voices opens with the text of the Sixth Amendment, which guarantees the rights of a fair trial and clear charges to suspects, and Article 103 of the Geneva Conventions, which prohibits prolonged confinement of war prisoners. These principles hang over Mirk's Guantánamo narratives like specters as prisoners relate their stories of torture, and as lawyers try to navigate the Bush administration's legal gauntlet. What Mirk's interviews make clear is that in the wake of 9/11, Guantánamo was allowed to exist as an exception to U.S. law not unlike the internment of Japanese-Americans. High-dollar bounties in Afghanistan created incentives for opportunists to turn innocent farmers over to U.S. authorities. Torture generated even more bad intelligence that prevented prosecutors from bringing clear charges in the vast majority of cases.

How to Handsell: The influences of Chris Ware, the Hernandez brothers and Moebius can be seen in Guantánamo Voices, a narrative report on the complex legal maneuvering, bureaucratic banality and patriotic equivocation that helped to justify a wartime prison that still exists today.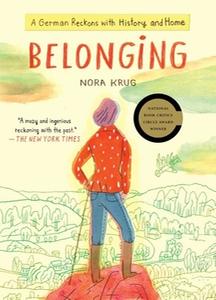 Belonging: A German Reckons with History and Home by Nora Krug (Scribner, $20, 9781476796635)
"As she speaks, the past reveals itself as if through a block of ice" says Nora Krug, describing a conversation with a distant relative she tracked down in Germany for Belonging. Krug's project is to chip away at that block of ice that is her family history, once thought of as an impenetrable barrier. Through amateur archives, state records, family photographs and heirlooms, items she finds on eBay, gossip of Germanophile chatrooms and conversations with local historians, Nora Krug traces her lineage to find that both sides of her family were involved with the Nazi Party.
What drives Krug's reconstruction of her family tree is the weight of both an inherited guilt and an absence of belonging, or the framing concept for this book, the German concept of Heimat. Heimat is the intangible anchoring force to a place, a culture and a people. In attempting to reconcile the intangible German Heimat with the crimes of her family and country, Krug produces a graphic novel that synthesizes, reproduces and artistically retells her family's history during World War II. The sections of Belonging that are drawn in a traditional comics format are the moments of history she reimagines. Alongside these panels are scanned documents with the English translations and Krug's commentary layered on top. Photographs of family members and the businesses they patronized are inserted at rhetorically effective moments in the narrative. Separating the chapters are the tangible parts of Krug's Heimat, bits of nostalgia "from a homesick émigré" like the Leitz binder, Gallseife soap, hot water bottles and German bread.
How to Handsell: Belonging's scrapbook style is both an innovative approach to comics and a warm, accessible welcome to those not acquainted with the medium. It offers readers an intimate connection to history.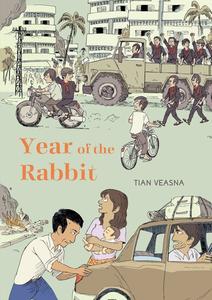 Year of the Rabbit by Tian Veasna (Drawn & Quarterly, $29.95, 9781770463769)
Tian Veasna, author and illustrator of Year of the Rabbit, was born three days after the Khmer Rouge's takeover of Phnom Penh. He spent the early years of his childhood on the run and in Khmer Rouge reeducation and labor camps. Like Belonging, Year of the Rabbit traces a history that is both obscure and haunting to the author. However, this graphic novel is more straightforwardly narrative, driven by the ruthless and necessary movement that defines the refugee experience. As a result, it moves at a relentless pace, but radiates with a clarity and precision that only a witness to history possesses.
Year of the Rabbit's chapters are broken up with editorial insertions in the form of infographics about the Khmer Rouge's organizational structure, tactical maps of the occupied territories, illustrated suggestions of survival tactics for refugees, and a panoply of goods confiscated by the Angkar, the central organizational structure of the Khmer Rouge. Drawn in rich pastels and military colors, this graphic novel is a stark account of a family's experience of one of the most vicious regimes in modern history.
How to Handsell: Despite heavy themes and depictions of violence, Year of the Rabbit is a great crossover recommendation for mature teenagers interested in history, or fans of Thi Bui's The Best We Could Do.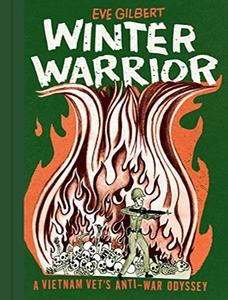 Winter Warrior by Eve Gilbert (Fantagraphics Books, $19.99, 9781683962137)
Eve Gilbert's interest in documenting the varied experiences of a generation of Vietnam War veterans was disrupted when she encountered a video of Scott Camil. Her project then narrowed to focus on the story of this abused child from Hialeah, Fla. Brought up in a culture of brutal masculinity and anti-communist propaganda, Camil was eager eventually to enlist and do his part in eradicate the ideology he'd been warned about and to ravage communities of its followers.
Winter Warrior is told from the perspective of Camil and sewn together into a brilliant narrative by Gilbert. Through Camil's strong narrative voice, he details his willing and enthusiastic participation in war crimes, which are described with unyielding and uncensored detail. Broke, disrespected, and philosophically unmoored after returning from Vietnam, Gilbert traces Scott Camil's journey from rampaging soldier to one of the leaders of the anti-war movement.
How to Handsell: With this ingeniously told story, Eve Gilbert delivers a piece of American history through beautiful illustrations and a faithfully told story of a veteran's precarious journey to redemption.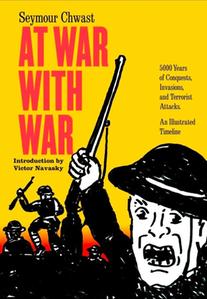 At War with War: 5000 Years of Conquests, Invasions, and Terrorist Attacks, an Illustrated Timeline by Seymour Chwast (Seven Stories Press, $19.95, 9781609807795)
Much of contemporary graphic design and avant-garde visual art can be traced back to Seymour Chwast, a founding partner of the legendary art collective Push Pin Studios. In At War with War, however, Chwast forgoes his trademark stark designs for an aesthetic and rhetorical minimalism. This graphic novel is, quite simply, a chronological list of global wars and conflicts for the past 5,000 years. Chwast does not offer detail or comment on these conflicts, although he occasionally intersperses his scrupulous list with a historical essay, like "The Complaint of Peace" written by Desiderius Erasmus in 1521, or "War Is the Health of the State" by Randolph Bourne, written in 1918.
How to Handsell: For art history zealots, history buffs or anyone who appreciates a break with traditional panel-to-panel comics, At War with War represents a new kind of encyclopedia. --Emma Levy, freelance writer