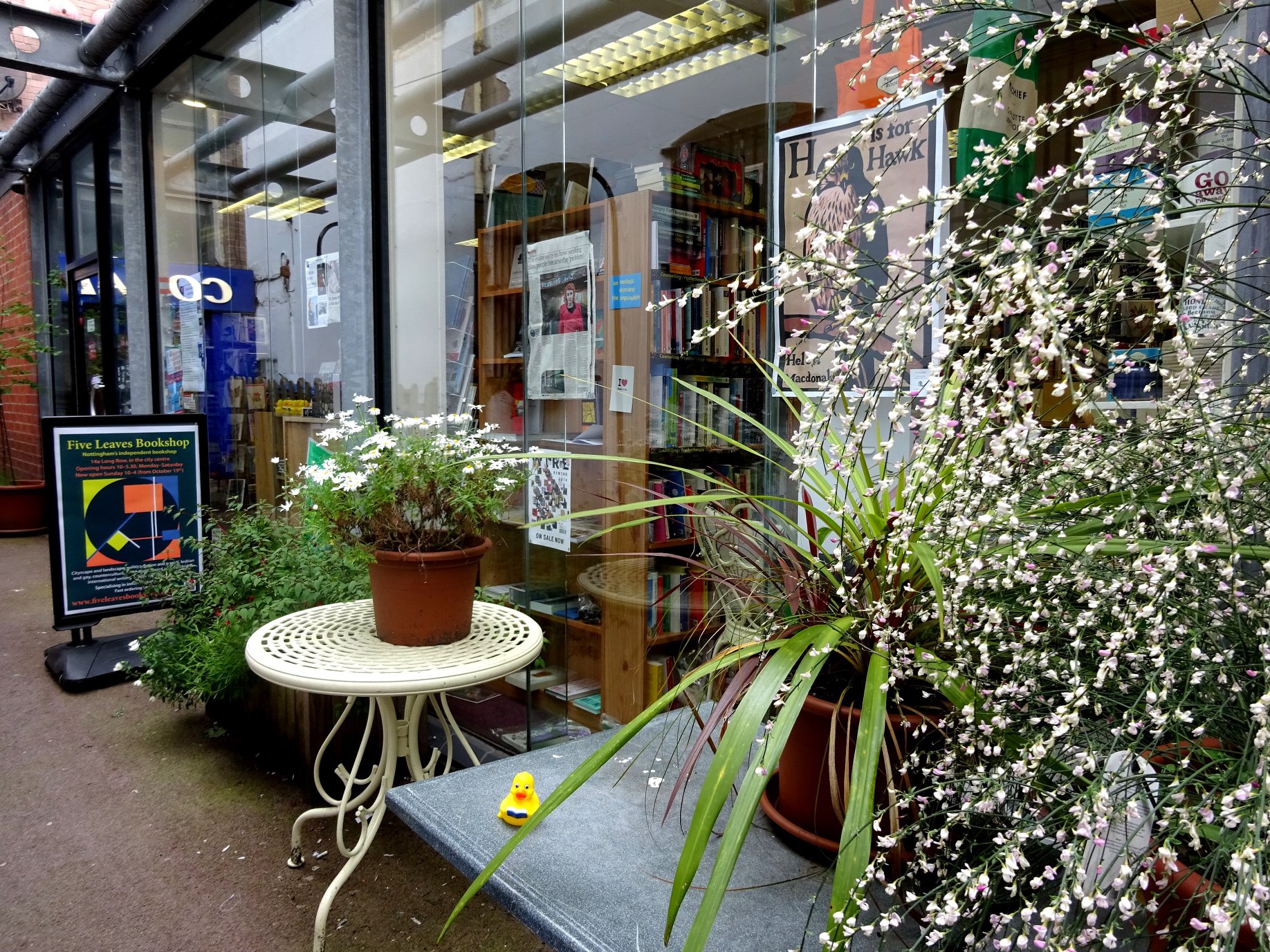 Five Leaves Bookshop in Nottingham just as the shutdown began a year ago.
Independent booksellers across England and Wales are eagerly anticipating April 12, when they are scheduled to be able to reopen under the current roadmap for lifting Covid-19 restrictions, the Bookseller reported.
"We know our members are hugely looking forward to being able to reopen their doors to book lovers again when restrictions lift in each U.K. nation," said Meryl Halls, managing director of the Booksellers Association. "This is of course just one step in the road to recovery, and the BA will be working hard to support booksellers as they welcome customers back instore, while continuing to sell books in more ways than ever before. We hope the entire publishing industry will likewise continue to show their support for the book world's frontline as they work to rebuild following this prolonged period of store closure."
Chris Taylor of St. Davids in Pembrokeshire, Wales, said: "Last August, when the lockdown came to an end, Wales was inundated with visitors. It's very difficult because we are in a holiday resort and I think the Welsh government got it slightly out of hand. It wasn't controlled enough, there were too many people here. But I think this time perhaps we'll be more fortunate from last time around. I believe the Welsh government will introduce rules and regulations [...] probably allowing two or three into the shop at a time."
Ross Bradshaw, owner and manager of Five Leaves Bookshop in Nottingham, noted: "We are pretty sure that quite a few of our regulars will continue to use the webshop for a while, and we will continue to offer free postage to those shielding, housebound or low paid until we are properly back to normal--which won't be on April 12."
Sally Pattle, manager of Far from the Madding Crowd in Linlithgow, Scotland, said she and her staff are "champing at the bit to get open again" when non-essential retail returns there on April 26. "By the time we are allowed to reopen... we'll have been in enforced closure for a total of 241 days over the past year: we are extremely ready to welcome back all of our amazing customers, and fervently hope this is the last time bookshops are made to close their doors ever again."
---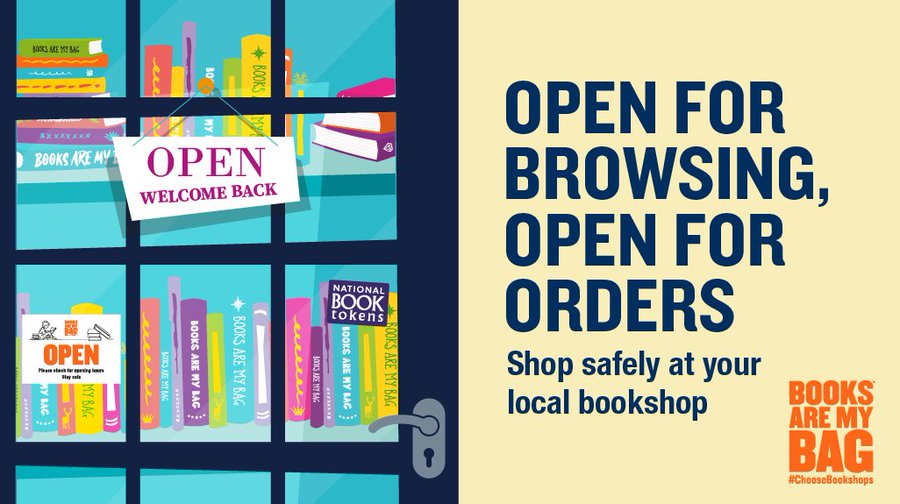 U.K. publishers are pledging their support to indies ahead of reopening with exclusive discounts, social media campaigns, bespoke editions and other initiatives, as well as using the #ChooseBookshops hashtag to share and repost content, the Bookseller reported, noting that last week, for example, Bloomsbury "said it would be working with the Booksellers Association in encouraging consumers to return to bookshops using the hashtag #ChooseBookshops.
"We will be championing our support for indies and our key DK authors and influencers will be encouraging readers to go and visit their local bookstores, post about it on their social channels and also take a bookshop selfie when they are out and about too," said DK CEO Carsten Coesfeld. "We will also be promoting it to our DK followers and subscribers, tagging them in our campaigns and working with independents, creating relevant point-of-sale material to make sure our readers reclaim their love for local."
Profile managing director Andrew Franklin observed: "Publishing is unimaginable without high street bookshops. We depend on them professionally. And I depend on them to buy my books. So we are doing everything we can to help them reopen."
---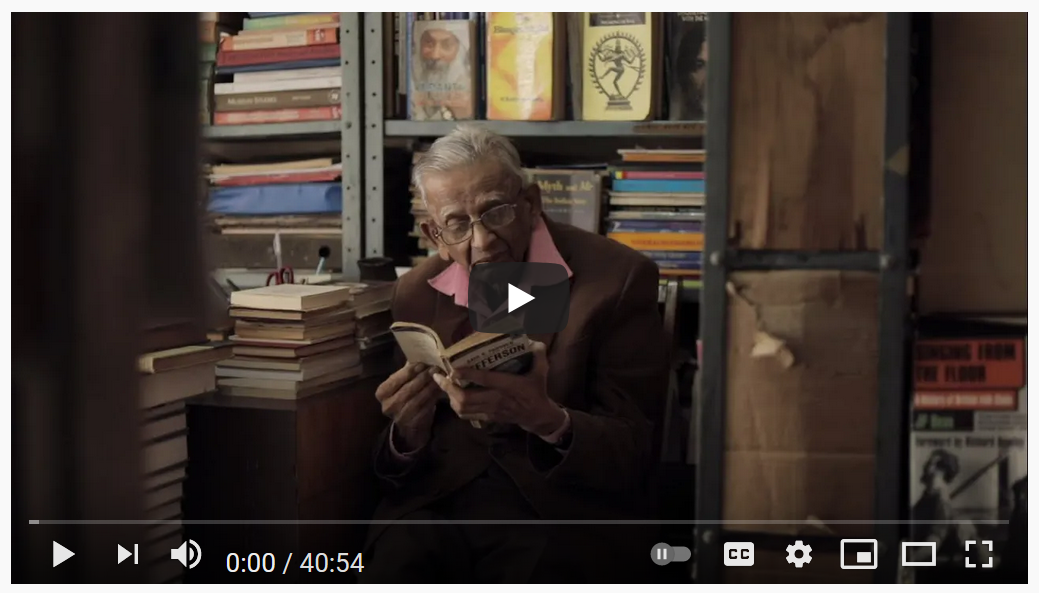 Indian bookseller K.K.S. Murthy and his Select Bookshop in Bengaluru, "one of the city's oldest surviving book shops," are the focus of Adithyaa Sadashiv's short documentary film, The Selected Book. Sadashiv told the New Indian Express that it took him only a couple of informal meetings with Murthy to make the film.
"To be honest, I had not visited the store as much as I would have liked to before the shoot. And I had met Mr. Murthy only a couple of times during book fairs in the city," he said. "The bookshop is not very well-organized. You might even find cobwebs here but the place still holds warmth and welcomes bibliophiles. That was the vibe given by [founder] K.B.K. Rao, and now Mr. Murthy, who is currently 92 years old, is carrying it forward."
---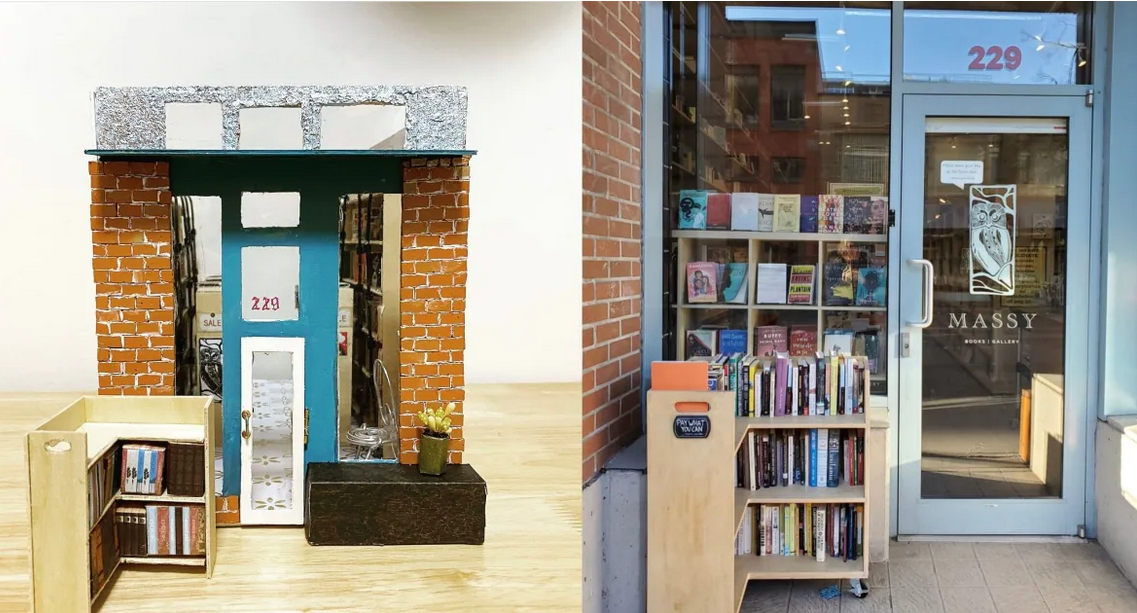 Wang's bookstore model (l.) and the real bookstore
Poet Isabella Wang "took her big love" for favorite indie bookstore Massy Books in Vancouver, B.C., Canada and turned it into a miniature. CBC reported that Wang created a scale model of the shop "down to the door, the seats and books on the shelves in miniature form."
Before the pandemic, she had attended poetry readings at Massy Books and other independent bookstores at least four or five times a week. "As a writer and poet myself, these are community spaces where I have a lot of good memories with friends," she said. "So many independent bookstores in our area [are] just really grassroots gathering place[s] for many poets and writers in the community."
On Instagram, Massy Books posted: "Thank you @isabellawangbc. The care and precision of this Massy Books miniature perfectly captures our storefront!" --Robert Gray