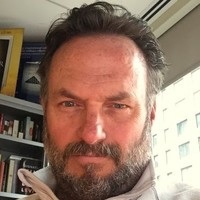 John Pitts
John Pitts is retiring from Doubleday, effective May 1, nearly 35 years after joining the publisher's marketing department. In a memo announcing his retirement, Maya Mavjee, president and publisher, Knopf Doubleday, noted that Pitts worked on a range of bestselling books during his tenure with the company: "This is a testament to both his varied reading interests (John has always been our go-to marketer for science and sports titles in addition to a broad range of general nonfiction) and how his innovative marketing campaigns helped nurture and shape some of our biggest brands."
In addition to the long list of notable writers he worked with over the course of his career, there is one author with whom he has been associated since the beginning: John Grisham.
"John's dedicated, hands-on work has been essential to the Grisham brand--conceiving of and implementing marketing campaigns; managing Grisham's social media, web presence, and newsletters; writing and designing marketing collateral; and arranging inventive partnerships, all specifically tailored to each title," Mavjee wrote. From 1995's The Rainmaker to his forthcoming novel, Sooley, Pitts worked directly on every Grisham novel, nonfiction, and short-story collection for 26 years.
Grisham observed: "It is difficult to imagine publishing a book without the involvement of John Pitts. John was always 'in the room.' Always with fresh ideas, and new marketing strategies, and even editorial comment on the sly. I listened to John with every book. He will be missed not only as an integral team player, but as a loyal friend."