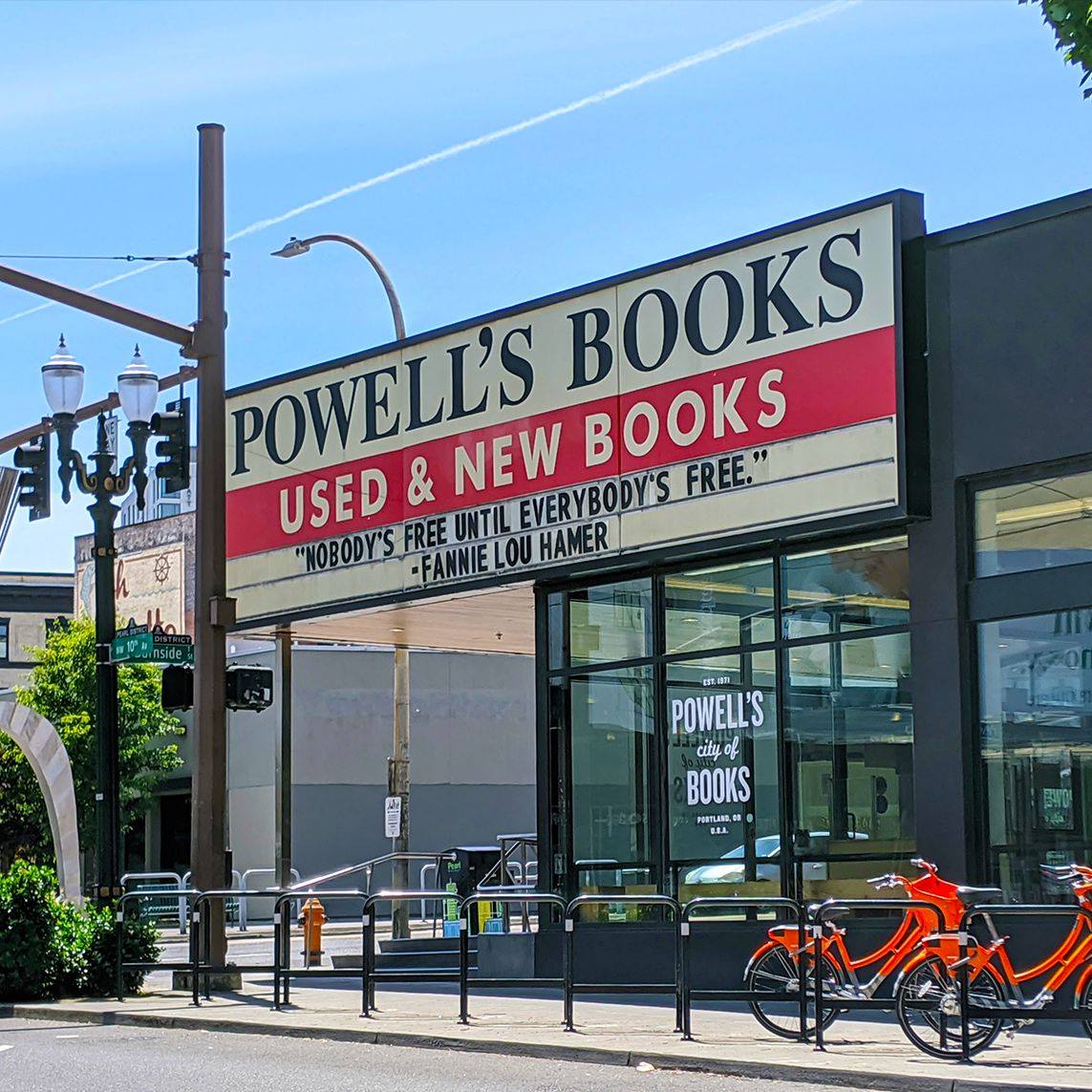 On Tuesday, Patrick Bassett, CEO of Powell's Books, Portland, Ore., issued an open letter outlining the latest steps in the gradual reopening of Powell's stores and expanding staff (which was cut severely last year). The move will involve advertising open positions, which the staff's union is objecting to vociferously.
In the letter, Bassett noted that last summer, "as safety permitted, we were able to gradually reopen stores with limited hours. This allowed us to honor our labor contract and recall more than 170 employees who were previously laid off due to the economic impact of COVID-19." (The union has represented 400 staff members at Powell's before than pandemic began.) "Now that vaccination rates are increasing, and signs of economic recovery are starting to appear, Powell's will begin hiring additional employees," Bassett continued.
He said the rehiring process is "not as straightforward as we'd hoped" because under the contract between Powell's and the union "seniority and employment rights have expired for laid-off former employees, including any rights under the recall process."
He said Powell's "reached out to the Union on two occasions to find solutions that go above and beyond the labor contract, without success. Our most recent proposal would have temporarily extended former employees' access to the recall process for a period of six months as well as reinstate their previous paid time-off accrual rate, which would be significant to our longer-term former employees. We appreciate the working relationship we have with Local 5 and our joint efforts to creatively find an agreement beyond the contract. Unfortunately, the Union did not accept this offer. This means the original contract language regarding loss of all seniority and employment rights applies, and we will begin to advertise job openings."
He stated that "former Powell's employees whose seniority and employment were lost under the labor contract remain eligible to apply for new positions. Our hope is that many will express interest in these opportunities and secure reemployment with the company. It is also our goal that when former employees are hired for the same or a similar position that they held before, we will return them at their previous wage."
Bassett added that "Powell's has adhered to the labor contract at all times and fulfilled our commitments as described in the collective bargaining agreement, including maintaining employee benefits and wage increases during the pandemic without requesting mid-contract relief from the Union. We are proud of this work and our commitment to our employees."
In a statement, union representative Myka Dubay responded in part: "We are appalled at Powell's decision to eliminate the recall list and force laid off employees to apply for their former jobs. This action comes nearly a year after the Union and Company had reached mutual agreement, in writing, that the recall list would be maintained without timeline restrictions. The Union is looking into every avenue to hold Powell's to their contractual obligations as well as the moral imperative to treat workers ethically and not use the pandemic as an opportunity to reduce wages and benefits for longtime employees."
In addition, Dubay told the Oregonian that the union had been in talks with Powell's for the last two weeks and didn't know that an open letter would be released.