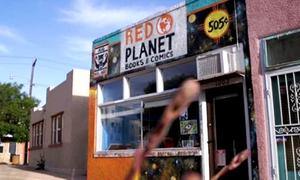 Daily Lobo, the student newspaper of the University of New Mexico, profiled Red Planet Books and Comics, Albuquerque, N.Mex., "the only Native American owned comic shop in the world," owned by Lee Francis IV, a member of the Laguna Pueblo. Francis also founded Indigenous Comic Con in 2016, a gathering that celebrates Indigenous pop culture. The convention was formed to give a platform to Indigenous pop culture groups such as Native actors, cosplayers and artists, which inspired the idea for Red Planet Books and Comics.
"I tell the joke that I had a lot of books and I had a lot of banners and I needed some space to host all of that," Francis said. "We figured, instead of getting an office, why don't we open a bookstore so we can keep the comic con going all year long?"
He added: "I am surrounded by creativity, illustration and imagination. I am surrounded by Native creatives because that's what we specialize in. It's not just a comic book store; it is the Native comic book store. I can't think of a better way to go into work everyday--it's amazing."
Kirk Tom, a local Navajo cosplayer, found an outlet to display his artistry and work through the Indigenous Comic Con, Daily Lobo wrote. Tom attended almost every Indigenous Comic Con and won the costume contest for the event twice.
"I was bringing something new to the table, being a Mandolorian character but added my traditional, Native designs to it," Tom said. "As soon as I walked in, everybody freaked out in a way and they were like, 'You can do that?' Overall, everyone was excited that somebody actually did something this cool."