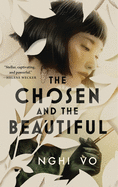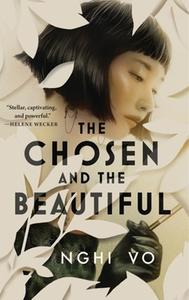 Everyone and every place remain assuredly familiar here: Nick, Gatsby, Daisy, Tom, Jordan, Myrtle and George drink, dance, manipulate and die throughout East Egg, West Egg, Nick's cottage, Gatsby's mansion, the Plaza suite and the green-lit dock. But Nghi Vo's first novel (after novellas The Empress of Salt and Fortune and When the Tiger Came Down the Mountain) alchemizes F. Scott Fitzgerald's venerable classic The Great Gatsby into the sensational The Chosen and the Beautiful, in which supporting character Jordan Baker assumes narrative control.
Yes, she's still Daisy's friend since childhood; yes, she plays golf competitively; yes, she gets involved with Nick Carraway. Vo's Jordan, however, is also a northern Vietnamese (called Tonkin back in the early 1900s) adoptee with a Manhattan Park Avenue address; her adoptive family's wealth allows her societal access--up to a point--despite her obvious, worn-on-the-face foreign origins. She moves through exclusive venues, tony establishments, posh parties, privileged homes, but society's entitled gatekeepers aren't quite willing to welcome fully the rescued orphan as one of their own.
Fitzgerald's obsession with class and status looms throughout, further amplified by Vo's complicating additions of ethnicity and sexual orientation: not only is Jordan clearly other, she's also queer. As if to counterbalance the intensity, Vo's ingenious embellishments and supernatural diversions are many: paper cut-out doppelgängers, dragons that come to life, "demoniacs"--better than Prohibition-banned alcohol--that turn the imagined real.
Classic literature remade is hardly new. Vo's resuscitation of Gatsby suggests comparisons with Jean Rhys's celebrated Wide Sargasso Sea, which gave voice to the first Mrs. Rochester, the proverbial "madwoman in the attic" from Jane Eyre; rather than adapted homage, both The Chosen and the Beautiful and Wide Sargasso Sea brilliantly elevate less-central characters, adding depth and gravitas to women underdeveloped, overlooked.
Of course, to transform a canonical text for any writer is a daring feat. Vo confidently succeeds in emulating Fitzgerald's effortless, distanced style: "Nick and I were possessed of a basic incompatibility that we both gamely ignored in order to spend time with one another." Where she diverges narratively from the source, her prose turns gorgeously sensual--"It was land magic, earth magic of a kind you never saw in the city, and with a demoniac whispering in my belly and my blood, I lost all of my city reserve and educated pretension to stare in awe and pleasure and wonder at the sight of it." In maintaining that striking balance between adaptation and enhancement, Vo creates an extraordinary multi-layered literary experience that both enriches and eclipses the overexposed original. --Terry Hong, Smithsonian BookDragon
Shelf Talker: Novelist Nghi Vo resuscitates The Great Gatsby, brilliantly replacing the Midwest narrator with a wealthy transracial Vietnamese adoptee who's also queer.