During a U.S. Book Show panel discussion Tuesday afternoon about best practices for selling books online, Bookshop.org partnerships manager Sarah High related that while Bookshop has over 1,100 independent bookstore affiliates, the website has more than 25,000 non-bookstore affiliates. These affiliates, High explained, include everyone from publishers and individual authors to social media influencers, bookstagrammers and TikTok users.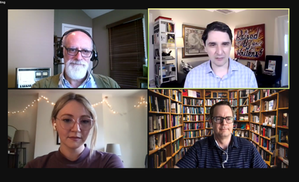 Clockwise from top l.: Phil Davies, Ed Nawotka, Mark Pearson, Sarah High
Also on the panel were Phil Davies, director of IndieCommerce for the American Booksellers Association, and Mark Pearson, co-founder of Libro.fm. Edward Nawotka, bookselling and international editor for Publishers Weekly, served as moderator.
High added that after expanding to the U.K. and Spain in the past year, Bookshop is going to "take a pause" on expansion and focus on improving the website. Included on the list of priorities are optimizing Bookshop's search engine, better targeting and audience segmentation for promotional e-mails, one-stop checkout and giving affiliates more customization options.
Davies, meanwhile, said that IndieCommerce sales are down from the tremendous levels seen at peak times in 2020, but they remain 2-3 times higher than they were in 2019, even as bookstores see a return of foot traffic. He noted that very little discovery is happening on IndieCommerce, as 80% of customers who buy online already have a specific book in mind (a further 60% buy online but elect to pick up the book in-store). He pointed out that social media companies are increasingly trying to push transactions onto their own websites, platforms and apps.
During a discussion of virtual events, Pearson mentioned the partnership between Libro.fm and Greenlight Bookstore in Brooklyn, N.Y. The bookstore does an online event once per week that it records and turns into a podcast, and Libro turns that into an audiobook. When the panel shifted to talking about selling children's books online, he noted that children's audiobook sales lag behind sales of other types of audiobooks. Part of it, he explained, is the lower price point of children's audiobooks. Libro.fm members receive a free monthly credit worth $18, and they prefer not to use that on an $8 children's audiobook. At the same, children's books make popular gifts and "you can't wrap an audiobook." Listeners also have to be logged into Libro.fm on a device.