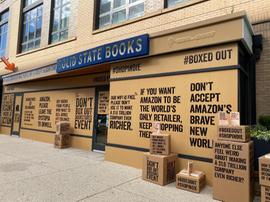 On Friday, a bipartisan group of lawmakers in the House of Representatives introduced five bills that aim to rein in Big Tech companies--Amazon, Google, Facebook and Apple. The moves parallel efforts by the European Union to regulate Big Tech more, and seem to be one of the few areas where Congressional Democrats and Republicans have found common ground. Still, the bills could take a while to pass, especially in the Senate, with some Republicans wary about changing antitrust law, and once passed could take longer to implement.
"The proposals would make it easier to break up businesses that used their dominance in one area to get a stronghold in another, would create new hurdles for acquisitions of nascent rivals and would empower regulators with more funds to police companies," the New York Times observed.
One of the bills, the Ending Platform Monopolies Act, would make it unlawful for an online platform to own a business that uses "the covered platform for the sale or provision of products or services" or that sells services as a condition for access to the platform, the Wall Street Journal wrote. The platform company also couldn't own businesses that create conflicts of interest, such as by creating the "incentive and ability" for the platform to advantage its own products over competitors. The act could require Amazon to split into several companies.
The Journal added: "If the Ending Platform Monopolies bill were to be passed, Amazon could have to split its business into two separate websites, one for its third-party marketplace and one for first-party, or divest or shut down the sale of its own products. Amazon's private-label division has dozens of brands with 158,000 products. It is also a market leader on devices such as Kindle eReaders, Amazon Echos, Fire TV streaming devices and Ring doorbells."
Another bill bars platforms from giving preference to "the covered platform operator's own products, services, or lines of business over those of another business user," or that excludes or disadvantages other businesses. This, too, could deeply affect Amazon.
Another bill seeks to limit mergers, "making it unlawful for a large platform to acquire rivals or potential rivals," the Journal wrote. Still, "the bill would have prevented only 'a small percentage of all technology sector deals' over the past decade, the summary said."
Yet another bill would raise filing fees for mergers valued more than $1 billion and lower them for transactions under $500,000, which would raise an estimated $135 million for antitrust enforcement in its first year, the Journal noted.
Rep. David Cicilline (D., R.I.), chair of the House Antitrust Subcommittee, said, "Unregulated tech monopolies have too much power over our economy. They are in a unique position to pick winners and losers, destroy small businesses, raise prices on consumers, and put folks out of work. Our agenda will level the playing field and ensure the wealthiest, most powerful tech monopolies play by the same rules as the rest of us."
Rep. Ken Buck (R., Colo.), the ranking Republican on the Subcommittee, said, "This legislation breaks up Big Tech's monopoly power to control what Americans see and say online, and fosters an online market that encourages innovation and provides American small businesses with a fair playing field. Doing nothing is not an option. We just act now."