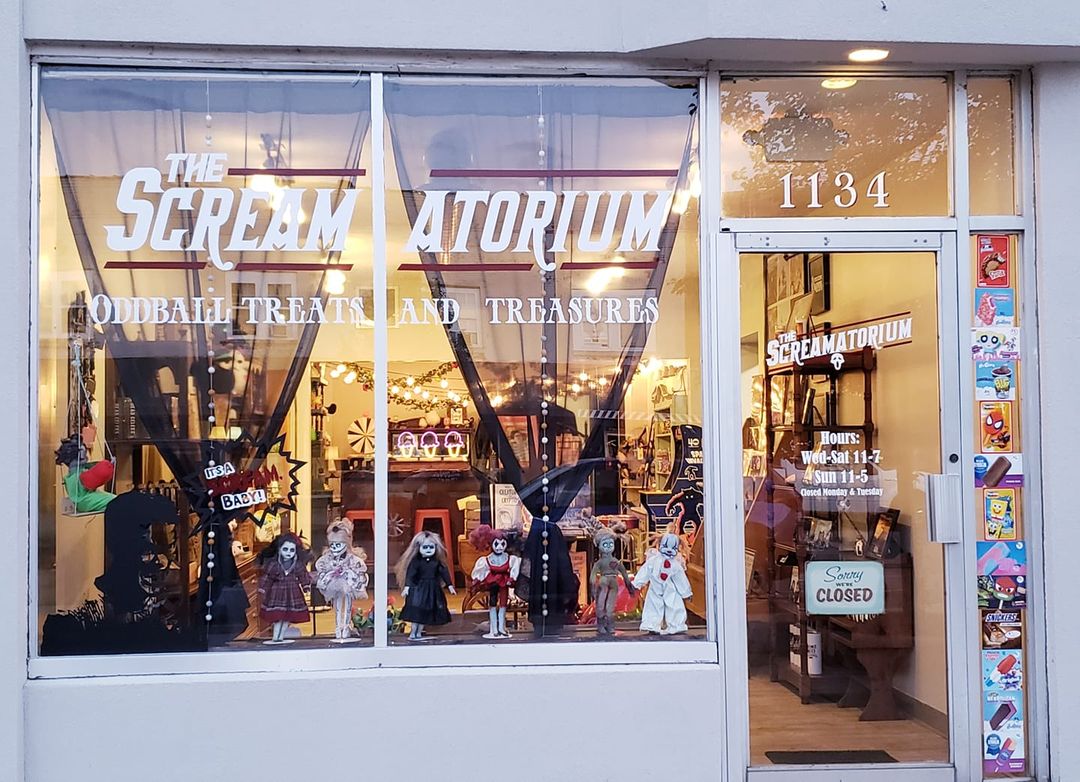 Deadtime Stories, Lansing, Mich., which opened a bookshop last fall dedicated to true crime, paranormal and horror titles, has expanded into the space next door, City Pulse reported. The Screamatorium, a gift shop offering "oddball treats and treasures, from true crime-themed merch and ghost hunting kits to frozen treats and throwback candy," held its grand opening celebration last Saturday.
Owner Jenn Carpenter, author of the Haunted Michigan books series and founder of the Festival of Oddities, said she always wanted to open an additional shop should the opportunity ever present itself. "Next door to me was a salon," she explained. "I thought if she ever left, it would be cool to expand into that spot. The day after I had that thought, my landlord called and said, 'The salon is moving out, do you want her space?' I had to take it while it was available."
The Screamatorium, which is attached to the Deadtime Stories building on Washington Avenue, is "a spooky little general store with a whole bunch of nostalgic stuff based on true crime and horror," Carpenter noted. "By next summer, we hope to have a full-service ice cream counter. There's so much fun stuff you can do with ice cream."
After the grand opening, the Screamatorium shared pics on Facebook: "WOW. You all sure know how to make a spooky little shop feel welcome! Today was incredible, and we can't thank you all enough for the tremendous support.... Here are some photos of the calm before the storm, and a few of the storm itself."
And the bookshop noted: "While the Screamatorium was the star of the show this past weekend, Deadtime Stories is lookin' pretty magical these days as well. Moving the bulk of our gift items over to the new side means MORE ROOM FOR BOOKS at Deadtime Stories!"