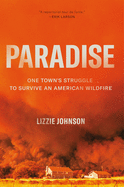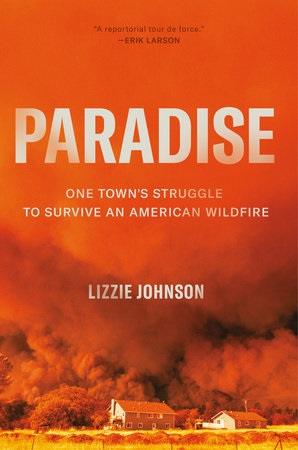 For some five years, San Francisco Chronicle staff writer Lizzie Johnson devoted her professional life to covering wildfires, as part of the broader subject of climate change. Her first book, Paradise: One Town's Struggle to Survive an American Wildfire, is a terrifyingly intimate account of the Camp Fire that killed 85 people and laid waste to the rustic northern California town of Paradise, "a tinderbox nestled between two geological chimneys," instantly turning it into a vision of Hell.
Early on the morning of November 8, 2018, gale force winds dislodged a section of Pacific Gas & Electric electrical line from a poorly maintained 100-year-old transmission tower and deposited it onto the bone-dry grass of a region that had received 0.88 inches of rain in the preceding six months. With that, the deadly Camp Fire was born. The ravenous blaze spread at an almost incomprehensible speed, obliterating Paradise, home to some 26,500 people, in barely four hours, destroying 95% of its commercial buildings and 90% of its residences, 18,800 structures in all.
Paradise is a moment-by-moment chronicle of the fire, seen through the eyes of the town's terrified residents and the local and state officials who fought frantically to contain it and to reduce the unimaginable toll of life and property damage. Johnson's account is comprehensive and her descriptions of the inferno are vivid and immediate, like one of the "hundreds of flaming matchsticks" that "swirled over the furniture, fingering framed family photos like looters, then incinerating the entire place within minutes."
Johnson conducted more than 500 interviews and lived part-time in Paradise while reporting these events. Her extensive access to residents of the town is evident in dramatic stories like that of Rachelle Sanders, who gave birth to her son Lincoln less than 24 hours before the fire began, and who was rescued by a middle-aged biomedical technician with a heart arrhythmia she knew only as "David." Or Kevin McKay, a school bus driver who dodged flaming debris along the town's handful of traffic-clogged escape routes to pilot a bus containing 22 elementary school children to safety.
For all the courage and heroism Johnson recounts, she clearly identifies her principal villain: PG&E. Though the company pleaded guilty to one count of unlawfully causing a fire and 84 counts of involuntary manslaughter, the maximum fine imposed amounted to about 20 cents for each of its customers. And as Johnson thoroughly explains, other culprits like climate change, flawed forestry management and haphazard development in the wildland-urban interface guarantee that the Camp Fire won't be the last or the worst catastrophic wildfire. --Harvey Freedenberg, freelance reviewer
Shelf Talker: A skilled reporter's vivid account of one small community's encounter with a deadly wildfire.