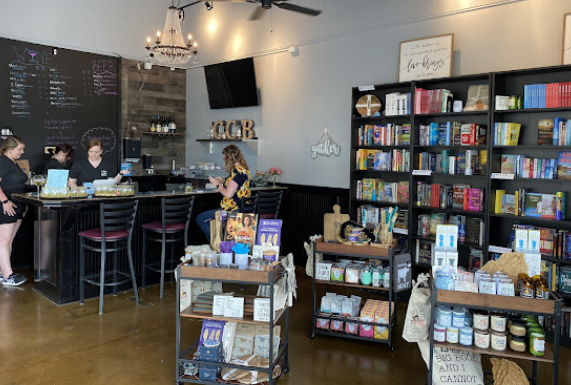 Corks, Cooks, & Books opened recently in the Millwood Shopping Center at 295 Herlong Ave., Rock Hill, S.C. Queen City Nerve reported that "opening a wine bar and bookstore was always a shared dream of friends Mindy Kuhn and Shonali Thomas--they just didn't know it until it came up."
The two met in 2017 when Warren Publishing, Kuhn's company, published Shonal's Kitchen: A Dose of Healthy Indulgence. They became friends and over time discussed possible expansion options for their businesses: Kuhn wanted to add a retail aspect to her publishing company, while Thomas envisioned a wine bar with small bites to expand her catering firm, SplenDishes Kitchen.
Corks, Cooks, & Books combines the passions and professional ventures of the caterer and publisher, combining "casual tapas with a signature wine bar and a bookstore, creating a new hangout that allows patrons a space to grab a drink and settle into a good read," Queen City Nerve noted.
"I wanted to be able to add something extra and different that made us stand out from other independent bookstores in the area, or just kind of gave us something to be able to look different," Kuhn said.
Thomas noted that she had always "wanted to have a little small plate, wine bar-type something where we could just serve charcuterie foods. No restaurant, just like small bites and stuff like that. So, we were talking about how we could put those two things together, and what a great concept that would be."
While Thomas handles the kitchen, Kuhn "has focused on transforming the space to hold books of all genres--romance to mystery to cookbooks to children's books. Kuhn said it's her mission to have something in stock for everyone who comes through the doors," Queen City Nerve wrote, adding that the "staff has pitched in a lot since the shop opened in mid-July, allowing Thomas and Kuhn to run their other businesses."
"Our staff is getting to the point where they can take care of everything," Thomas said. "And that's a big thing. Our staff is amazing." The co-owners are already thinking about where to take Corks, Cooks, & Books next.