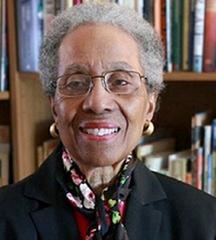 Eloise Greenfield
Eloise Greenfield, a beloved children's author who "left a catalogue of books that spanned five decades and fans who grew up reciting her poems, reading her books to their children and buying them for their grandchildren," died August 5, NBC News reported. She was 92. Her first book, Bubbles (1972), was published "at a time when books featuring Black children and families were rare. She quickly rose to prominence with her lyrical creations featuring everyday folks as well as historic figures."
"My mom wrote from a love of craft, a love of words, and a strong sense of mission and purpose," said her son, Steve Greenfield. "She set out to counter the blatant misrepresentation of African Americans in mainstream literature and media and to contribute to Black children, recognizing their beauty and love."
Her daughter, Monica Greenfield, said, "Early in her career, she experienced some pushback because of this, which reinforced my understanding of our struggle against racism, and having integrity and principles."
Greenfield's 48 books include Rosa Parks; She Come Bringing Me That Little Baby Girl; Honey, I Love; Grandpa's Face; Night on Neighborhood Street; Water, Water; MJ and Me; Grandma's Joy; The Friendly Four; Paul Robeson; When the Horses Ride By: Children in the Times of War; The Great Migration: Journey to the North; The Women Who Caught the Babies: A Story of African American Midwives; and Alaina and the Great Play.
She won numerous awards, including the 2018 Coretta Scott King-Virginia Hamilton Lifetime Achievement Award; a Hurston/Wright Foundation North Star Award for lifetime achievement; and induction into the Literary Hall of Fame for Writers of African Descent.
Greenfield insisted on having Black illustrators for her books at a time when publishers claimed they could not find any. Illustrator Jan Spivey Gilchrist worked on 29 books with Greenfield over 26 years. Celebrated children's books illustrator Floyd Cooper, who died July 15, credited her with starting his career.
"Writers, historians and cultural gatekeepers admired Greenfield for her convictions," NBC News wrote. "Her lyrical writings showed Black life in a way that had seldom been presented in print, endearing her to teachers and parents, but her insistence that Black illustrators and authors be entrusted with controlling the images of their lives made her an esteemed guardian of Black history and culture."
"She was one of the most honest and fair people I ever met," said Gilchrist. "I'm having a difficult time with this loss. This woman never bowed. Never bowed."
Wade and Cheryl Willis Hudson, founders of Just Us Books, witnessed Greenfield's determination to provide Black literature and to support Black and independent bookstores. "She was one of those pioneers that were mentors, advocates and carriers of the fight for diversity," Wade Hudson said. "She didn't take no stuff."