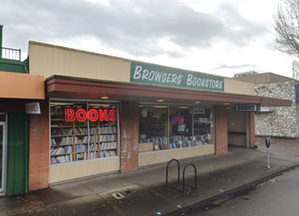 Browsers' Bookstore in Corvallis, Ore.
Browsers' Bookstore, which has two locations, in Corvallis and Albany, Ore., is closing in February, owner Scott Givens said in an e-mail to customers. He emphasized that the business, which sells primarily used books and some new titles, "makes a consistent profit," but "there are personal reasons which eclipse the financial benefits, and so I've made the difficult decision to close both stores."
He added: "When Browsers' started 20 years ago, I did not assume success. By the end of the second year, I could see the way to sustained profitability. It's something of a miracle that a small used bookstore could be a source of dependable income for raising the two best daughters in the world--in a few weeks, the youngest heads off to college. Thank you all so much for making this tiny piece of the American dream come true."
Givens said he believes there's "a slim possibility that someone will want to buy Browsers' and continue to run it. It wouldn't be cheap, but if you have money to invest in 200,000 books and 20 years of community involvement, I'm open to serious inquiries by email."
In the meantime, he encouraged customers to use their credits now, order new books for the holidays and tip the staff. About the staff, he said, "They all have credit accounts, and they all have books that they would like to take home. These guys have worked hard and faithfully over the many years they've been at Browsers', and they've had to put up with me as a boss, which fact alone should earn them some kind of medal. They've worked in ergonomically ridiculous working conditions which may or may not have met Fire Marshall, OSHA, or other such standards, and often had to work long hours or days by themselves."
For now, the store will continue to buy used books and be picky and all titles will be regularly priced for several months. But then the store will stop buying used books and will have "large broad-discount sales, as well as flash sales and limited-time specials."