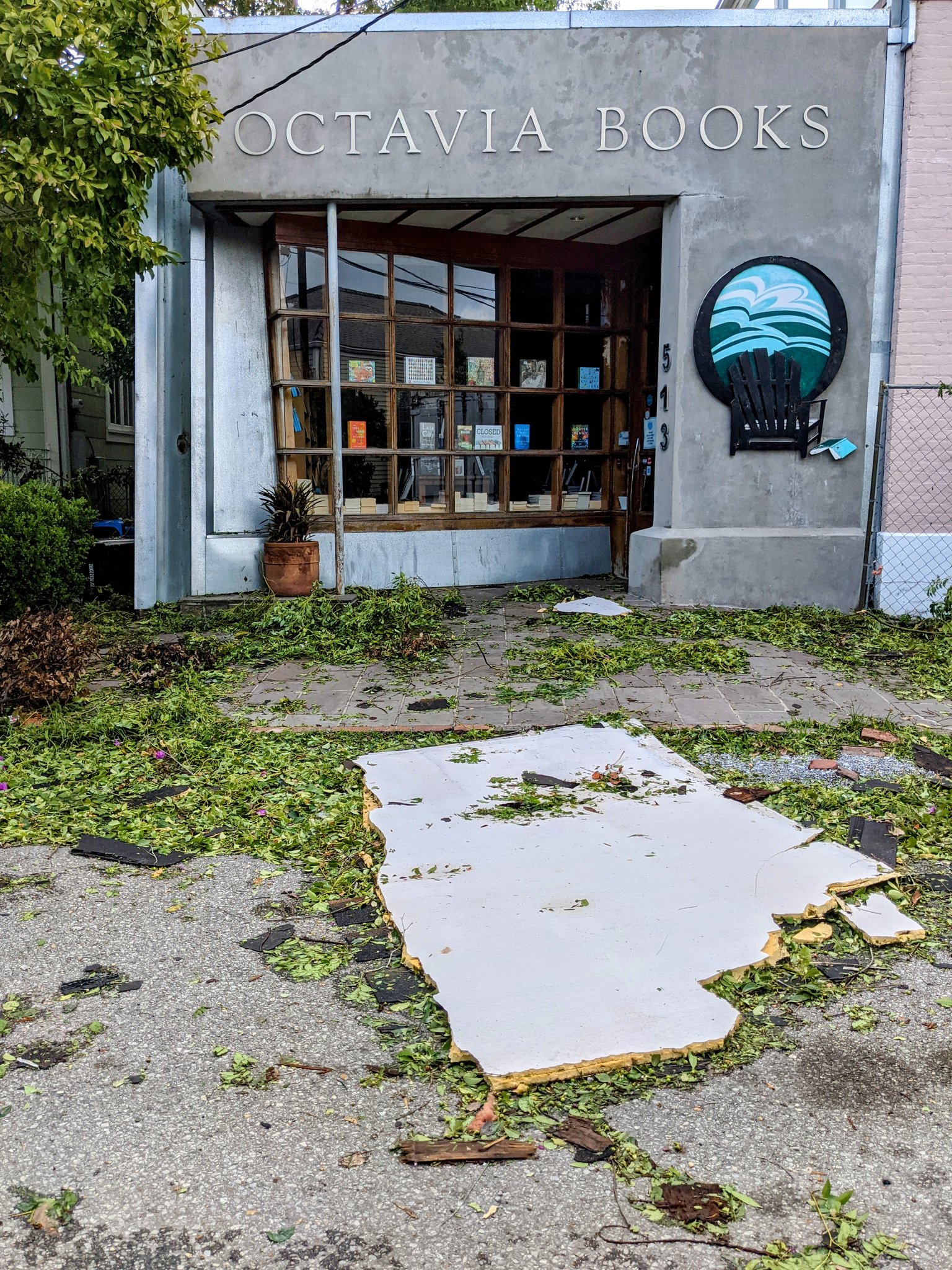 Part of the roof came off at Octavia Books
While power has begun to be restored to some parts of New Orleans, particularly to areas with hospitals and other emergency centers, much of the city is still without power after Hurricane Ida, and New Orleans bookstores face uncertainty in the days and weeks ahead.
Vera Warren, owner of Community Book Center, evacuated to Atantla, Ga., prior to the hurricane and has learned that a window broke above the bookstore and that "some siding and roof shingles are missing." Warren won't be able to tell if there's been any water damage inside the store until she returns to New Orleans; she hopes to return this weekend but that is still up in the air.
Some of her staff evacuated and some stayed, and while everyone who stayed is safe, they are without power and "they're sweating." In the meantime, Warren has been calling and pausing her orders. She hopes customers support the bookstore through its Bookshop.org page, and she is putting together an e-mail to customers to let them know what's going on.
Baldwin & Co. Coffee & Bookstore has asked customers and community members for help with Hurricane Ida recovery. The bookstore is accepting donations as well as encouraging customers to buy gift cards through its website, books through the store's Bookshop.org page and audiobooks through its Libro.fm affiliate page.
While store owner Candice Huber and their team have not been able to enter Tubby & Coo's Mid-City Bookshop, all staff members are safe and it appears that the store has not suffered any outside damage. They are unsure when they'll be able to return to New Orleans, and until they can they won't be able to tell whether there was roof or water damage, but "so far so good." In the meantime, the store still has rent and bills to pay, and Huber is asking customers to support the store by buying gift cards or shopping on the store's Bookshop.org page.
Octavia Books has reported that although a "huge swath of our upper story roof did end up in the middle of Octavia St.," all booksellers and staff are safe, and the "bookstore will be able to thrive once Entergy fishes its transmission system out of the Mississippi River."
Blue Cypress Books, which suffered a broken window and signage from Hurricane Ida, launched a GoFundMe campaign Monday to help cover clean-up costs, insurance premiums and rent while the store is closed. In only a short while, the campaign exceeded its original goal of $5,000.