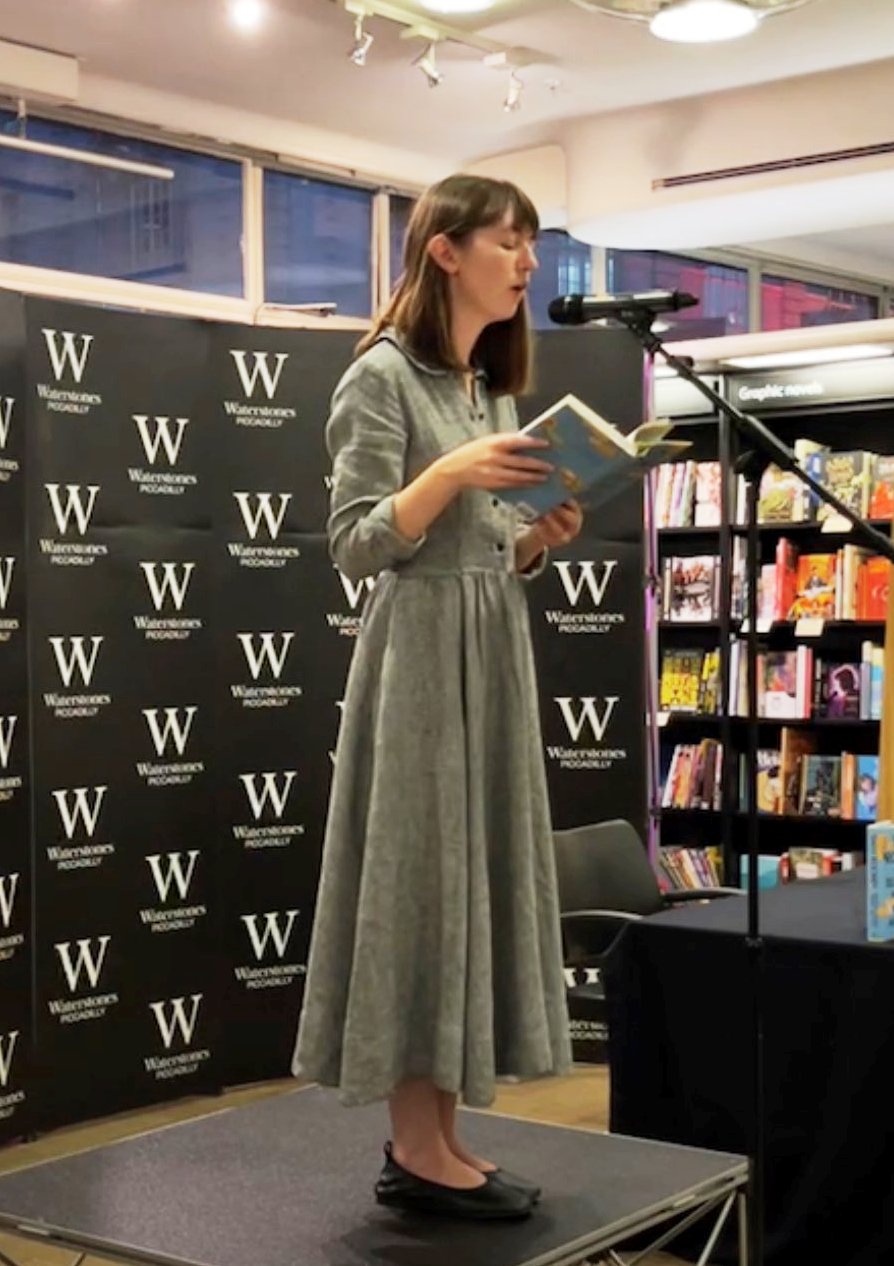 Yesterday was unofficially Sally Rooney Day internationally, marking the release of her latest novel, Beautiful World, Where Are You. The Bookseller reported that dedicated fans lined up to hear her read from and sign copies of the book at a Waterstones Piccadilly event in London Monday night, "with some traveling up to 120 miles just to meet the author." Bea Carvalho, head fiction buyer at Waterstones, said, "It feels like one of the year's most significant cultural moments--it's unusual for books to reach this level of mainstream cultural awareness."
The celebration continued yesterday, with 20 independent bookshops and 30 Waterstones stores in the U.K. opening their doors early "to give readers a chance to get their hands on the new book, plus an exclusive goodie bag and merchandise ," the Bookseller noted.
"It's been a crazy morning," said Chrissy Ryan, owner of BookBar in Islington. "I arrived at the shop at 7:15 to people already queuing outside. It's been the most buzzy morning--BookBar always has a brilliant buzz to it, but it felt like our opening week again. People were having coffee and drinking the complimentary bucks fizz we offered, and buying books in twos and threes. It was so special to see the same readers who queued outside bookshops at midnight for Harry Potter books do the same 15 years later for Sally Rooney. It was also exactly what BookBar is about: bringing people together through books and building community around reading."
In Castlebar, Ireland, Rooney's home town, David Brennan of Castle Book Shop told the Journal: "There's a great buzz in the shop. Sally's from Castlebar so there's been a huge local interest in the book and the release. People have been very excited to come in. We opened early this morning so there were people in first doors to collect their copy. We haven't had a book like that in a long time to be honest with you, so it's great."
Other bookshops around the world checking in on social media for #SallyRooney day included:
Shakespeare and Company, Paris, France: "Getting our window ready for tomorrow. Pick up yours in store from midday."
Unity Books, Wellington, New Zealand: "Where's Sally? We know you're keen but our supply of the new book has been disrupted by that Covid fellow. It will be here sooner rather than later we are assured. Meanwhile here's a short story from Sally to keep you going."
The English Bookshop, Stockholm, Sweden: "TOMORROW Tuesday 7th Sept.--Publication day for Sally Rooney's new novel Beautiful world, where are you! YOUR COPY (and a nice tote bag if you're among the first customers) when we open (at 10 in Uppsala and 10.30 at the Stockholm shop). We also have the limited indie bookshop edition with the yellow cover! (Well, a limited number of copies, it is after all a limited edition...). SEE YOU tomorrow morning!"
Shakespeare and Sons Bookstore, Berlin, Germany: "And we are live from Berlin! Sally Rooney's third novel Beautiful World, Where Are You is now available in our store and on our website. There's something truly magical about how a book can still cause such an excitement and thrill among the readers worldwide."
Kinokuniya, Takashimaya Shopping Centre, Singapore: "Sally Rooney much awaited Beautiful World, Where Are You is finally here."
Mosaic Books, Kelowna, B.C., Canada: "It's release day for Sally Rooney's newest staff-picked-and-staff-favourited novel Beautiful World, Where Are You. We're expecting to blow through our stock FAST. This is definitely the hottest book of the fall publishing season. A story of friendship and love, a story of growing older and finding oneself. If you loved Normal People, get ready cuz Rooney is BACK baby."
Blossom Book House, Bangalore, India: "New Release."
The Sun Bookshop, Yarraville, Vic., Australia: "It's finally here!! The highly anticipated new novel from the one and only Sally Rooney is finally on our shelves.... It's everything you'd want from Rooney and more. They've been selling like hot cakes, so make sure to grab a copy!"
Come in Librería Inglesa, Barcelona, Spain: "Today is the big day! If you were lucky enough to pre-order it you can come pick it up! At the moment it's sold out, but we're expecting more copies this Friday. We did not expect them to sell out this fast!!" --Robert Gray