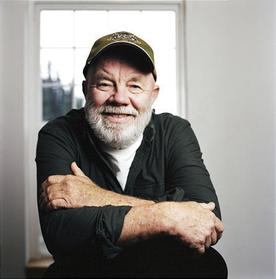 Gary Paulsen
Gary Paulsen, the bestselling author and three-time Newbery Honor-winner known for books such as Hatchet, Brian's Winter and The River, died suddenly on October 13. He was 82.
Over the course of his career, Paulsen wrote more than 200 books and scores of articles and short stories. Hatchet, published in 1986, was a Newbery Honor Book, as were Dogsong (1985) and The Winter Room (1989). In 1997 he received the ALA Margaret A. Edwards Award for his contributions to young adult literature, and his books have sold more than 35 million copies worldwide.
An avid reader from a young age, Paulsen also had a lifelong taste for adventure, which was reflected in his fiction. He was a passionate advocate for reading and for children's literature. He told children: "The most, most important thing is to read. Read all the time; read when they tell you not to read, what they tell you not to read, read with a flashlight under the covers, read on the bus, standing on a corner, waiting for a friend, in the dentist's waiting room. Read every minute you can. Read like a wolf eats. Read."
Born in Minnesota in 1939, Paulsen ran away from home at the age of 14 to travel with a carnival. Over the years he worked as an engineer, a construction worker, ranch hand, truck driver and sailor, and while working as a satellite technician in California he realized that he wanted to be a writer.
He spent a year in Hollywood, working as a magazine proofreader by day and writing by night, before moving to northern Minnesota and renting a cabin on a lake. While he finished his first novel in short order, he soon became enamored of the sport of dog sled racing. Twice he raced the Iditarod, the annual dog sled race that covers 1,180 miles from Anchorage to Nome, Alaska, but gave the sport up in 1985 due to an injury.
"I started to focus on writing with the same energies and efforts that I was using with dogs," Paulsen said. "So we're talking eighteen-, nineteen-, twenty-hour days completely committed to work. Totally, viciously, obsessively committed to work, the way I'd run the dogs.... I still work that way, completely, all the time. I just work.... The end result is there are a lot of books out there."
Paulsen's most recent book was the memoir Gone to the Woods: Surviving a Lost Childhood. Farrar, Straus and Giroux Books for Young Readers will publish his final novel, Northwind, in January. He is survived by his wife and son.