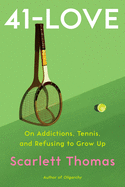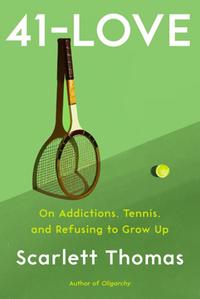 British writer Scarlett Thomas was accomplished and successful. A professor of creative writing and contemporary fiction at the University of Kent, she had published several popular novels (Oligarchy; Our Tragic Universe) and even a book on the craft of writing (Monkeys with Typewriters). However, by 2013--41 years old--she felt something was missing. She re-evaluated her life and choices made as a headstrong, rebellious youth who attended boarding school. She also mined the influences of a demeaning, paternal grandmother and a "devoted lefty," multi-married mother who provided Thomas with three fathers. In gazing back at the past, Thomas revived her competitive athletic spirit and a yearning to strive toward an unfulfilled dream. With the support of her encouraging partner, Rod, she set off on a quest to reclaim a hidden desire abandoned when she was 14 years old: to compete professionally in tennis and become a world-ranked player.
Intensity marks Thomas's beautiful memoir, which is a meticulously detailed, often darkly funny account of her hot pursuit of a dream deferred. Her mental toughness grows as she rails against emotional doubts, phobias, confidence problems and demons from the past, en route to ascending the ranks of the professional, over-40, "senior" tennis circuit. Along the journey, she faces opposition in the form of quirky hitting partners and coaches, naysayers and court competitors who psych her out. Other complications also figure in: glitches in setting up matches; traveling and training; meditation and dieting woes; and an aging body often besieged by the exhausting demands imposed by the rigors of keeping fit amid chronic competition. Through it all, Thomas's grit, determination to win and defiant spirit battle through some nail-biting doubles and singles matches. The wins and losses, recorded on her way to the finals of Seniors' Wimbledon at the legendary All England Club, add up to a smart, clever and very suspenseful point-by-point re-enactment. Readers--especially the competitively inclined--will root for Thomas to go the distance and emerge a victor both on and off the court.
Thomas's body of writing consistently features sharp, likable and captivating heroines who often riff incisively on the perils and glories of contemporary living and modernity with sarcastic wit and self-deprecation. With Thomas serving as narrator for the multi-layered, no-holds-barred odyssey of her ascent into middle age, she emerges as a top seed and the very best of them all. --Kathleen Gerard, blogger at Reading Between the Lines
Shelf Talker: A middle-aged writer serves an intense memoir about rekindling her passion for professional tennis, and growing up in the process.