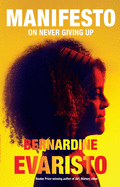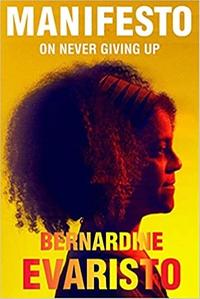 In Manifesto: On Never Giving Up, Booker Prize winner Bernardine Evaristo peels back the layers of her literary life, exploring the childhood origins of her creativity, recounting her activism on behalf of British writers of color, and sharing the profoundly life-altering personal development strategies that guide her artistry. Fans of Evaristo's work will discover in Manifesto the passionate core of this unstoppable force in 21st-century literature.
One of eight children born to a white English mother and a Nigerian immigrant father, Evaristo (Girl, Woman, Other; Lara) grew up in '60s South London, absorbing from an early age the class, race and cultural barriers her parents overcame to build their multiracial family. A passion for history leads the author to trace her English roots back to 1703, while her Nigerian family history remains frustratingly elusive.
The author's soulful exploration of her early years, accompanied often by hilarious observations, reveal a courageous young woman who compromised nothing in pursuit of her artistic endeavors, including drama and theater. Living independently, with freedom to explore her sexuality and the privacy of a room of her own, helped Evaristo's writing blossom. Poetry offered a creative outlet for self-expression, and the city of London was her muse.
Readers will encounter many memorable personalities in Manifesto, from the author's disciplinarian father to the controlling, abusive female lover--"The Mental Dominatrix"--with whom she had a "torture affair" instead of a love affair. Her fearless mother, a beloved schoolteacher, encouraged her children's individualism and opened the door to the author's love of literature.
Evaristo's career ambitions are intertwined with her vision for the communities she inhabits: women, people of color, working-class and immigrant families, and older women. With an open heart and passion for guiding others, Evaristo, now in her 60s, derives pleasure from "bringing on the next generation," championing emerging writers of color through various creative initiatives. Her most recent project, as curator of the Black Britain: Writing Back series, reintroduces into circulation overlooked books from the past that deserve a new readership.
Evaristo's personal manifesto, summarized at the end of this remarkable book, is ripe with inspiration for those who come after her, her advice timeless and applicable to readers at every stage of their artistic endeavors: "Be wild, disobedient and daring with your creativity, take risks instead of following predictable routes; those who play it safe do not advance our culture or civilization." --Shahina Piyarali, reviewer
Shelf Talker: A Booker Prize-winning British author's soulful memoir captures the essence of her creativity and offers inspirational guidance to emerging writers.