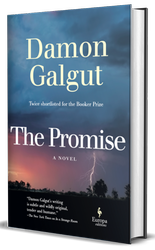 The Promise by Damon Galgut has won the £50,000 (about $68,300) 2021 Booker Prize. Organizers said that The Promise, published in the U.S. by Europa Editions, "is set in South Africa during the country's transition out of apartheid, explores the interconnected relationships between the members of a diminishing white family through the sequential lens of four funerals.
"The narrator's eye shifts and blinks, deliciously lethal in its observation of the crash and burn of a white South African family. On their farm outside Pretoria, the Swarts are gathering for Ma's funeral. The younger generation detests everything the family stands for, not least the failed promise to the Black woman who has worked for them her whole life. After years of service, Salome was promised her own house, her own land, yet somehow, as each decade passes, that promise remains unfulfilled."
Chair of judges Maya Jasanoff said: "The Promise astonished us from the outset as a penetrating and incredibly well-constructed account of a white South African family navigating the end of apartheid and its aftermath. On each reading we felt that the book grew. With an almost deceptive narrative economy, it offers moving insights into generational divides; meditates on what makes a fulfilling life--and how to process death; and explores the capacious metaphorical implications of 'promise' in relation to modern South Africa."
Galgut, who lives in South Africa, was shortlisted for the Booker in 2003 for The Good Doctor and 2010 for In a Strange Room. The Promise is his ninth novel. Galgut is the third South African to win the Booker Prize, following Nadine Gordimer in 1974 and J.M. Coetzee in 1983 and 1999.