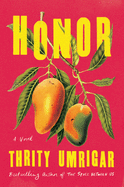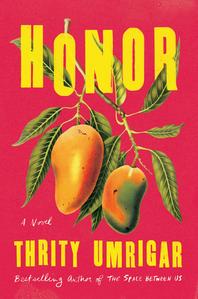 Indian-American novelist Thrity Umrigar (The Secrets Between Us) brings a wise, compassionate lens to a brutal subject matter in Honor, her ninth novel for adults.
On vacation in the Maldives, journalist Smita Agarwal gets a call from a friend and colleague: Shannon has been badly injured and needs Smita's help. Shannon wants Smita to pick up a story: a court case brought by Meena, a young Hindu mother, against her two brothers, who killed Meena's Muslim husband. Though Smita is an experienced gender issues reporter, this story tramples her attempts at objectivity, especially as she comes to know Meena and her small daughter, Abru.
In the company of Shannon's friend Mohan, Smita spends several weeks traveling back and forth between Mumbai and Birwad, the Muslim village where Meena still lives with Ammi, her resentful mother-in-law. Struggling to separate facts from emotion as she interviews Meena, her brothers, a local village chief and the female lawyer handling Meena's case, Smita nurtures a passionate hope for justice for the young woman. Umrigar inserts occasional short sections in Meena's voice, relating how she met her husband, Abdul, at her factory job and grew to love him enough to defy both their families. The consequences of their actions--and of their dream for a new India--ripple outward in ways Meena could never have imagined.
Meena's story drives the novel's plot, but the narrative ultimately turns on Smita's experience: her decision to stay and cover the story, her evolving relationship with Mohan, her fierce and complicated feelings for the country of her birth. Having successfully avoided India since leaving it at age 14, Smita is forced to confront the layers of contradictions in her homeland: at once beautiful and maddening, modern and stubbornly mired in ancient traditions. As Meena's case drags on, Smita finally faces the events that led to her family emigrating to the U.S., and begins to consider a new perspective on the country where she was born.
Umrigar sharply portrays the contrasts between cosmopolitan Mumbai, Smita's relentlessly American sensibility and the much more traditional practices that govern life in villages like Meena's. The rights of women are, of course, a central theme, but Umrigar also digs into religious strife, the challenges of loving one's country, and the agonizing slowness of trying to change any legal system. Full-bodied and insightful, Honor is both a page-turning account of a horrific family drama and a meditation on the complexities of love--both personal and national. --Katie Noah Gibson, blogger at Cakes, Tea and Dreams
Shelf Talker: Thrity Umrigar's ninth novel weaves feminism, nationalism and romance together with the story of an honor killing.