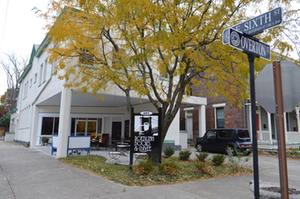 Roebling Point Books & Coffee, Covington, Ky., will host a grand opening celebration on Small Business Saturday for its new second location, at 601 Overton St. in Newport. Noting that just two years ago the business almost closed, CityBeat reported that "the decade-old store--cherished by locals and visitors alike--was threatened by a significant rent increase, constant construction and closure of its main thoroughfare, the John A. Roebling Suspension Bridge."
The shop's popularity and beloved neighborhood status prevailed, however. Owner Richard Hunt was able to strike a deal with the landlord on rent, and the original search for a new location evolved into the search for a second location. After exploring options, Hunt decided to open the second Roebling Books & Coffee in Newport.
"A city needs a bookstore like a body needs a soul," Hunt said. "I think reading fortifies a sense of community and if you're really going to have a neighborhood or a town that can be proud of itself and the work that it does, a bookstore can be your biggest resource."
Like his flagship Covington location, the new store will provide free meeting space for community groups and organizations. "We've always hosted, for example, Kentuckians for the Commonwealth events," he said. "The community room used to have 20 meetings a week pre-Covid. And that's where I think the 'soul' part comes in. When you have six to 12 to 15 people getting together to talk about a subject they are passionately interested in and want to change, that's a soul."
Located across the Licking River, "far enough to coexist with the Covington store but close enough to manage," the new space "effortlessly blends into the neighborhood," CityBeat noted. "On the corner of Sixth and Overton streets, a sizable outdoor foyer welcomes patrons while the inside offers two large rooms with an industrial-yet-cozy feel.... Exposed brick peeks from behind bookshelves lining the walls, which will debut a new method for displaying books that Hunt is particularly excited about. Books at the Newport location will be organized with the covers facing out, a tactic that makes more sales."
"Having been in publishing for so long, we spend an inordinate amount of time talking about the cover," he says. "On the spine you get a half an inch and four words, but it doesn't have the immediacy or the impulse to pick it up. I have been lucky enough to have been to 500 bookstores around the country, and the people that really use covers sell more books, they have more people picking them up."