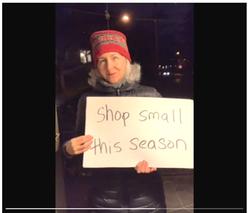 City Books, Pittsburgh, Pa., recently posted a parody video, Shop Small Actually, on Twitter to encourage holiday shoppers to avoid Amazon this year by shopping locally instead. Pennsylvania News Today reported that the video is a parody of the iconic Love Actually scene in which Mark (played by Andrew Lincoln) finally expresses his feelings for Juliet (played by Keira Knightley). In the City Books version, shop owner Arlan Hess appears at the door of scene partner and husband Patrick Schmidt.
"I rely almost exclusively on social media for bookstore marketing, so I can use it across our channels and run as close to a minute as possible so that people can see it multiple times. I wanted something recognizable to pull," Hess said. "One of TikTok's followers wanted information about why shopping on Amazon was bad. Anyway, I wanted to put together an 'Avoid Amazon' campaign, so I decided to combine the two... Love, Actually is a recognizable meme--and it's a Christmas movie--so I thought it would be fun to recreate."
She added that it didn't take long to convince her husband to participate: "He was very romantic about it. He wanted to make sure we got the kissing scene right, so we practiced it several times."