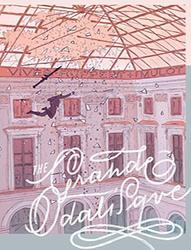 The Grande Odalisque by Jerome Mulot, Florent Ruppert and Bastien Vives (Fantagraphics, $24.99, 9781683964025)
If you've recently become absorbed in the scandalous corners of the art world exposed in Netflix documentaries This Is a Robbery or Made You Look, The Grande Odalisque is a graphic novel you'll want to pick up. Alongside its fine linework, Odalisque's stark and unusual color palettes evoke the style of fellow French cartoonist Moebius. But while Moebius's subject matter is the fantastic and extra-Earthly, Mulot, Ruppert and Vives stay firmly situated on this planet while still pushing every human limit on its surface.
Odalisque moves at an almost compulsive pace as it tracks the international crime sprees of best friends Carole and Alex, with the addition of newcomer Sam. Like Charlie's Angels, this group of young women are well trained in combat, stunts and acrobatics. While art heists are their primary trade, their lifestyle leads them into every sort of danger. Their ruthlessness, contrasted with the echoey backdrops of the most hallowed museums of Europe, is what makes Odalisque so compelling, but it's the friendships of these women that makes both their crimes and the novel so successful.
How to Handsell: Recommended for art history lovers, crime novel fans, Francophiles, and anyone who wants to see a trio of professional criminals kick butt indiscriminately.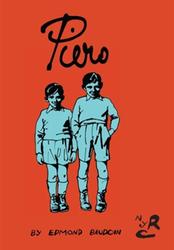 Piero by Edmond Baudoin, translated by Matt Madden (New York Review Comics, $17.95, 9781681372969)
Originally published in 1998, Piero is the first English translation of the work of French writer and artist Edmond Baudoin. It was reissued in 2018 by New York Review Comics, an imprint of New York Review Books, known for introducing out-of-print and oft-forgotten backlist gems to a devoted base of readers.
Described by translator Matt Madden as an "ink-stained Proust," Edmond Baudoin has an astonishing talent that clearly distinguishes him as one of the masters of graphic storytelling. The incredible economy of Baudoin's style is apparent within the first couple pages; readers will find that amid his minimalistic lines and scribbles, his spare and descriptive dialogue, Baudoin manages to tell an incredibly imaginative and humane story about the creativity of children and the joys of childhood companionship. Piero is simple but never condescending. It's tender but not at all saccharine. It is a wise meditation not only on the fleeting nature of youth, but also on craft: "At what point do lines, marks, scratches stop being grass, rocks, a tree, branches.... And why, if you try too hard, do you end up killing the sense of life?" Baudoin asks. Piero is a top contender for my favorite book of the year.
How to Handsell: Told through the idiom of childhood creativity and adventures, Piero is a graphic novel for fans of translated literature and anyone who has experienced childhood.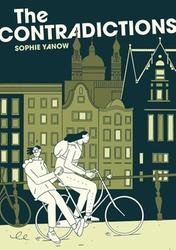 The Contradictions by Sophie Yanow (Drawn & Quarterly, $24.95, 9781770464070)
"I'd always been too nervous for risky behavior... too wishy-washy to stick it to the man," explains Sophie, a student who has come from the United States to Paris to study abroad. Lugging around her copy of The Dharma Bums, Sophie is looking for a Kerouac-esque adventure of her own. Despite her milquetoast tendencies, she gravitates to Zena, a queer self-described anarchist who insists on shoplifting wherever they go out together.
Zena and Sophie hitchhike and take trains to various European cities. Once there, they explore them on the back of borrowed or stolen bikes. They take drugs together and stage debates (well, Zena talks and Sophie listens warily). Their adventures are picturesque, but what is interesting about The Contradictions is that it becomes clear that their friendship is actually a kind of alliance designed to make an unfamiliar place less intimidating. The fear of being alone that defines one's early 20s inspires a lot of ill-suited friendships, which Yanow explores to awkward effect as the characters struggle to agree on how to spend their time in cities they might never see again. Translation errors abound, and Yanow depicts them cleverly through empty dialogue boxes exchanged by smiling faces.
How to Handsell: For readers who enjoy travelogues, coming-of-age fiction, or a mix of the two in the style of The Dud Avocado.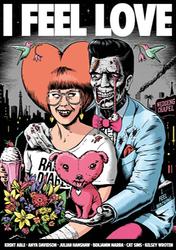 I Feel Love, edited by Julian Hanshaw and Krent Able (SelfMadeHero, $22.99, 9781910593851)
A teenage swamp monster, a fan-fiction-obsessed mother, a pregnant woman growing branches out of her hands, and naked, crime-fighting goat women--I Feel Love features stories about the many ways that love disfigures and makes mutants out of otherwise normal people. This anthology of underground comics edited by Krent Able and Julian Hanshaw offers six stories, all drawn with drastically different styles. The one quality they share is that they are twisted, with varying levels of Cronenberg-inspired gore and camp.
Kelsey Wroten's "The Anchor" is illustrated in an elevated children's-book style, with colors exploding from the page. Ben Marra's story is drawn in classic comic book style, with painstaking stippling and shading. Julian Hanshaw illustrates with striking colors and close attention to facial expressions. I Feel Love is a clever and provocative collection for readers who enjoy a little filth.
How to Handsell: For mature readers, this is a fun and transgressive anthology that features six artists' interpretations of a single concept: what love can do to the human body. --Emma Levy