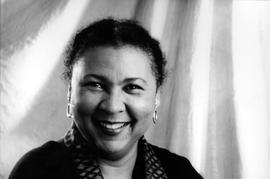 bell hooks
bell hooks, the renowned author, scholar, feminist and activist whose work examined race, class, gender and the ways they intersect, died on December 15 at the age of 69, the Lexington Herald reported. She died at her home in Berea, Ky., surrounded by friends and family.
Born Gloria Jean Watkins in Hopkinsville, Ky., she published more than 30 books under the pen name bell hooks. She explained in interviews that it was her great-grandmother's name, and she wrote it in lowercase letters to focus attention on her words, not herself.
Her first book was the poetry collection And There We Wept, released in 1978. In 1981 she published the hugely influential Ain't I a Woman? Black Women and Feminism, which explores the impact of sexism and slavery on Black womanhood. In addition to Feminist Theory: From Margin to Center (1984), All About Love: New Visions (2000), Feminism Is for Everybody (2000) and The Will to Change: Men, Masculinity, and Love (2004), hooks wrote scholarly articles, essays and children's books. Her first children's book, Happy to Be Nappy, was illustrated by Chris Raschka and published in 1999.
She defined feminism as "a movement to end sexism, sexist exploitation and oppression," USA Today wrote, and her early influences included James Baldwin, Sojourner Truth and Martin Luther King Jr. In a 2012 interview with Appalachian Heritage, hooks said of King: "He had a profound awareness that the people involved in oppressive institutions will not change from the logics and practices of domination without engagement with those who are striving for a better way."
She attended Stanford University and went on to earn a master's in English at the University of Wisconsin Madison and a doctorate in literature at the University of California Santa Cruz. She taught at Oberlin College, City College of New York and Yale University before joining the faculty of Berea College in Berea, Ky. In 2010 the school opened the bell hooks Institute, which "houses her collection of contemporary African-American art, personal artifacts and copies of her books published in other languages."
After news of her death spread Wednesday morning, authors, publishers and others in the literary world shared tributes to hooks.
"Oh my heart. bell hooks. May she rest in power. Her loss is incalculable," Roxane Gay tweeted.
Ibram X. Kendi wrote: "The passing of bell hooks hurts, deeply. At the same time, as a human being I feel so grateful she gave humanity so many gifts. Ain't I a Woman: Black Women and Feminism is one of her many classics. And All About Love changed me. Thank you, bell hooks. Rest in our love."
"We lost bell hooks. The heart breaks," wrote Pantheon and Schocken Books senior v-p and publisher Lisa Lucas.
"I want my work to be about healing," hooks said in 2018. "I am a fortunate writer because every day of my life practically I get a letter, a phone call from someone who tells me how my work has transformed their life."