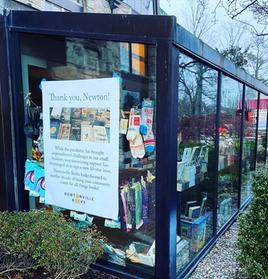 Newtonville Books
Independent booksellers across the U.S. took to social media over the New Year's weekend to express gratitude to customers for their support in 2021 and hopes for a brighter 2022. Here's a sampling:
Newtonville Books, Newton, Mass.: "And 2021 is a wrap! Celebrate a safe and happy New Year, and we'll see you next year!"
Literati Bookstore, Ann Arbor, Mich.: "We close early at 5 p.m. (closed tomorrow, too) to gather all our strength and magical abilities to conjure a better year ahead. BUT! 2021, with all its difficulties, was so much better than it might have been because of you. So, we thank you for your continuous support and good cheer in the face of hardship, while simultaneously conjuring midnight magic for a brighter and safer year ahead. May 2022 not be 2020 Part Two."
Quimby's Bookstore, New York, N.Y.: "2021 was the best year yet for the store. Gracie and I want to thank you all for the incredible support and love you have given us this first five years of business. Here's to 2022. Things are gonna get better, folks. They just have to."
Rofhiwa Book Café, Durham, N.C.: "What a year it's been for Rofhiwa and for us; inside a dream that keeps expanding and challenging us to be more human. More vulnerable and more alive to the shifting of fortunes and the turning of tides. Thank you for being with us on this journey, for holding us this far. We have been given in abundance; we are inspired to continue to probe what can be made with these gifts."
Portkey Books, Safety Harbor, Fla.: "Portkey Books grew quite a bit in 2021! We went from weekly pop-up to full time storefront. Thank you so much for your support and company on this journey. We are so very grateful and we can't wait to spend 2022 with you. Happy New Year!"
Excelsior Bay Books, Excelsior, Minn.: "As we say goodbye to 2021, we are grateful that you've helped Excelsior Bay Books survive a turbulent time. It has been 2 years since we bought this venerable Excelsior institution. In addition to fostering a sense of community, we are committed to providing friendly service, conversation, recommendations, and (of course) the bookstore poodle! Thank you for opting to support a local economy and, in particular, this local independent bookseller. We love the bookstore and we're thrilled that you love it, too!"
MahoganyBooks, Washington, D.C.: "This year was beyond epic... because of YOU! We're very clear. We could be the dopest bookstore on the planet, but if customers don't shop, share posts, tell friends, send up prayers and continue to support, we wouldn't exist the way we do. In 2021, we stand in gratitude for an overwhelming number of blessings."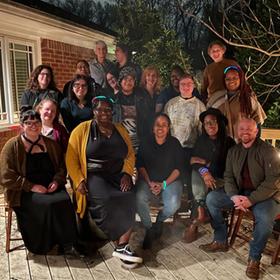 Charis Books and More
Charis Books and More/Charis Circle, Decatur, Ga.: "As we head towards the end of 2021, we are grateful for the community of feminists close to home and around the world who make Charis a thriving space. Our Charis Books and Charis Circle staff and Circle board thank you for being a part of our collective work to build the feminist future!"
Harper's Books, Lebanon, Tenn.: "2021. We made it through. I want to take this opportunity as we end this year to thank every one of you.... The 2021 Holiday season has been good to us as well. Business is trending in the right direction so we should be around for a while longer. I love my bookstore, and I love my customers. I hope you all have a happy and safe new year."
Itty Bitty Bookstore, Madison, Wis.: "2021 was filled with more ups and downs than I, or any of us, would have liked within one year. BUT we made it! We are here, we have loved ones, friends and pets to love on this new year. This year I laughed and I cried in cycles! But I am grateful for all of it and for all of the amazing people who entered my life this year!... So to that Goodbye 2021! You were tough and rough but I am thankful for all you taught me!"
Reads & Company, Phoenixville, Pa.: "THANK YOU for supporting us through thick and thin, good times and bad. Because of you, we had a record-breaking year--and with your continued help, Reads will be here for years to come, trying our best to add comfort and joy to this community we all love. The New Year can't get here fast enough. Stay Safe, Stay Strong, and Read Books That Make You Feel Alive."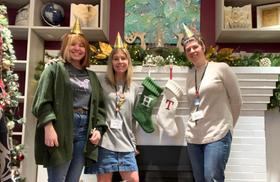 Harvey's Tales
Harvey's Tales, Geneva, Ill.: "From our team to all of you, we wish you a Happy, Healthy and Well Read New Year! We thank you for finding us, shopping with us and telling your friends about us in 2021, making sure we would be here in 2022 with all your favorite books!"
Sea Howl Bookshop, Orleans, Mass.: "Happy New Year and THANK YOU for an amazing year! We are full of gratitude for every single one of our customers who made the choice to shop locally with us. Your purchases keep us here, but your presence is what makes this place special. We're grateful for every friendly smile (even behind a mask), every engaging conversation and riveting story, every thoughtful gift for our new arrival Hazel (oh the beautiful, tiny sweaters!), every kind gesture and moment of connection. Books clearly bring people together and we are so happy to be a part of that! Wishing everyone a happy and healthy 2022!"