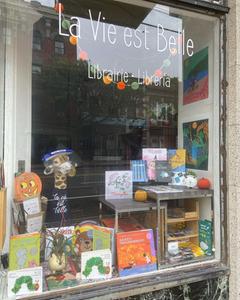 La Vie Est Belle Librairie, a children's bookstore with an emphasis on diversity and multilingual titles, has opened in Larchmont, N.Y., Lohud reported.
Store owner Evanice Pineda-Delgado carries books in English, German, French, Chinese, Japanese, Spanish and Portuguese. By opening the bookstore, which is located in downtown Larchmont, she hopes to "uplift a diverse community" and "curate empathy through language." She noted that Larchmont is one of the whitest communities in Westchester County, at about 80% white, and the books she displays are meant to broaden the community's horizons.
"I lovingly curate them," Pineda-Delgado said of the books she carries. "What would I want my children to learn, and what valuable lessons are there?"
Prior to opening La Vie Est Belle Librairie last September, Pineda-Delgado was a chemistry teacher. She's drawn on that background for some of the store's event offerings, including its STEAM yoga camp. For her store, Pineda-Delgado has changed the meaning of STEAM to "science, technology, empathy, art and music." She's also brought in local authors for readings. "The concept at the end is still supporting different people, bringing in different people, and expanding the network."
Pineda-Delgado, who identifies as Indigenous Ecuadorian and grew up in Parkchester in the Bronx, named the store after the Italian film La Vita È Bella, about a "Jewish Italian bookshop owner who protects his son from the Holocaust through storytelling."
She built the bookshelves that line the store's walls, and her daughter's old playhouse rests in one corner. For each book she sells at her own store, Pineda-Delgado donates a book to the mobile bookstore Bronx Bound Books.