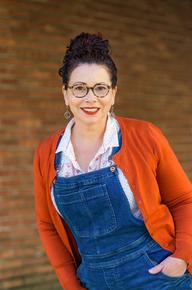 Donna Barba Higuera
Donna Barba Higuera grew up in Central California and now lives in the Pacific Northwest. She has spent her entire life blending folklore with her experiences into stories that fill her imagination and to write picture books and novels. Higuera's first book, Lupe Wong Won't Dance, won a PNBA Book Award and a Pura Belpré Honor. The Newbery Medal-winning The Last Cuentista (from Levine Querido) is her second novel.
Congratulations! What an excellent morning--you're not only the 2022 Newbery Medal winner but also the 2022 Pura Belpré Children's Author Award winner. How are you feeling?
Quite frankly, I'm a bit shell-shocked at the moment. My poor nervous system has processed a lot of adrenaline over the past few days!
This year is ALA's official celebration of the 100th anniversary of the John Newbery Medal. What does it feel like to win the award? Does the anniversary make winning the award feel any different?
Yeah, 100th anniversary! No pressure at all. I don't think I've completely digested it all just yet. But for this to happen on the 100th anniversary of the Newbery Award's inception, the gravity of this honor is even more powerful, and one I will be processing for quite some time.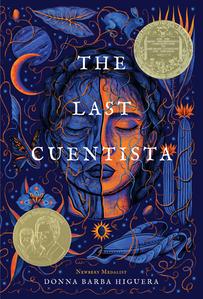 This is your second nod from the Pura Belpré committee, the first being an author honor in 2020 for Lupe Wong Won't Dance. How does it feel to be recognized two years in a row?
Lupe Wong Won't Dance and The Last Cuentista are two very different books, with two very different characters in two very different genres. So to have the Pura Belpré committee embrace both of them is huge as a writer. As writers, we worry so much about if the reader will connect with our characters and their stories. It tells me the committee found these two very different Latina girls and their vastly different journeys to be equally important.
Both your books were published during the pandemic. What has it been like to write during this time?
Thank you for asking this. No one has asked me this question. Writing has been challenging. I think it is for most writers currently. But for me, it has also been an escape. Life has been overwhelming for most of us, I think, in the past few years. We all need to find healthy outlets and that has been so difficult. Getting my mind to focus on writing instead of the outside world has been a disaster. But once I get there, I find my imagination takes me to other places, and it's a solace to me.
The Last Cuentista features a girl in the future working to keep her traditions strong. Is there something about this theme that you think particularly speaks to the children of today?
I believe contemporary children are more outspoken and unapologetic about what they love than they were when I was young. Maybe it was just me. But I remember feeling embarrassed and hesitant to share my love of science fiction and fantasy books (amongst other things) as a child.
Kids have been through a lot in the past few years. These times have been difficult, but many children seem stronger for it--or at least less willing to bend in their convictions. I've seen in my own children how they hold true to what they believe in and love. They are more willing to share all of themselves with others and accept others into their treehouse of trust.
What do you hope resonates most strongly from your novel?
For those of us that breathe the love of story and storytelling, that we must protect it with all of our being. I hope readers will see there are real threats to our oral traditions and beloved books and recognize that those who would erase our history do not just exist in a sci-fi novel.
Are you working on anything new?
Yes! I wish I could share all the details. Very soon though. I'm having just as much fun with my new weird idea as I had with my previous books.
Is there anything else you'd like to share with Shelf Awareness readers?
I suppose that I hope we are all finding comfort in books. And I hope my book brings a bit of hope and solidarity to those of us whose hearts are made of story. --Siân Gaetano, children's/YA editor, Shelf Awareness