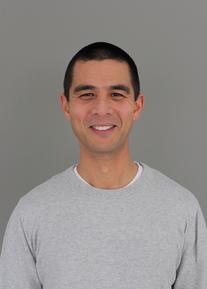 Jason Chin
Jason Chin is a children's book author and illustrator; his book Grand Canyon received a Caldecott Honor, a Sibert Honor and the NCTE Orbis Pictus Award. His other acclaimed nonfiction titles include Redwoods, Coral Reefs, Island: A Story of the Galápagos, Gravity and Your Place in the Universe. He lives in Vermont with his wife and children. Watercress (Neal Porter Books/Holiday House) is the 2022 Caldecott Medal winner.
Well, what a lovely morning you've had! Congratulations! Not only did your illustrations for Watercress win the Ralph Caldecott Medal but you and author Andrea Wang won the Asian/Pacific American Award for Literature in the picture book category. How are you feeling?
I'm feeling a mixture of emotions including disbelief, joy and gratitude. The Caldecott AND a Newbery Honor AND the APALA?! I can't believe it. It's surreal.
You are certainly not new to receiving accolades for your work; you even received a Caldecott honor in 2018 for Grand Canyon. What's it like to win the medal?
One thing that feels different is the list of people who have won it before now, artists who I've studied and admired for years. I am still coming to terms with the idea that my work is worthy of the same recognition as theirs.
Do the wins feel different this year, considering so few people are able to gather and celebrate?
I feel for the recent winners who haven't been able to celebrate in person. When I received the Caldecott Honor for Grand Canyon, the celebration at ALA was a memorable part of the experience. I certainly hope that we are able to meet in person this year.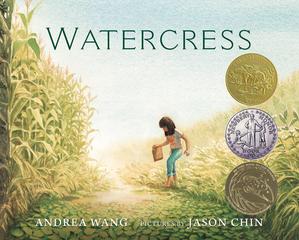 You've illustrated other people's text as well as your own--did you work with Andrea Wang directly during the creation of Watercress? Did you set out to make the family in the book look like her and her family?
Our editor, Neal Porter, introduced me to Andrea before I began making art for the book. Over a few conversations (in person and later on the phone) we got to know each other, which turned out to be very important. I was hesitant about illustrating such a deeply personal story, but our conversations put my mind at ease.
I didn't try to make the protagonist or her family look like Andrea or her family, but I did have her family photos as reference, and they influenced the illustrations.
You say on your website that Trina Schart Hyman was your mentor. There is something about the way you've used plants to visually combine two different times and places in Watercress that reminds me of Hyman's outdoor illustrations.
Trina's work always inspires me. I grew up with it. I studied it and imitated it as a child. I met her in high school and learned about art and about being an artist from her. I still wish I could draw like her. As an adult I've tried not to imitate her art as much as to imitate her approach to art. Her devotion to her craft, the emotional connection she formed with her characters and her passion for books inspire me to this day.
Is there anything that you are hoping readers will take from Watercress?
I hope that many readers, no matter their background, will relate to the protagonist and see themselves reflected in her story. I hope that it helps readers feel seen, and to know that if they feel embarrassment or shame, they aren't alone.
Are you working on anything new?
My next book, which is slated for this fall, is called The Universe in You: A Microscopic Journey. It is about the scale of small things and what we are made of, from cells to atoms to the smallest subatomic particles.
Is there anything else you'd like to say to Shelf Awareness readers?
I would like to say how grateful I am to all of the people who had a hand in making this book. This was a true collaboration and I'm so grateful for their efforts, especially Neal Porter and Jennifer Browne, and of course Andrea Wang. We were all inspired by her words, and I am so glad that the Newbery committee recognized them. --Siân Gaetano, children's/YA editor, Shelf Awareness