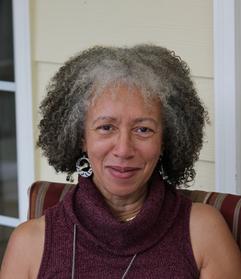 Carole Boston Weatherford
Two-time NAACP Image Award winner Carole Boston Weatherford has written more than 60 books--four of which have won Caldecott Honors. Her books have received nine Coretta Scott King Award nods, including R-E-S-P-E-C-T: Aretha Franklin, The Queen of Soul and Becoming Billie Holiday. Among her recent releases is the Newbery Honor book BOX: Henry Brown Mails Himself to Freedom. The Baltimore native is a professor at Fayetteville State University in North Carolina. This week, Unspeakable: The Tulsa Race Massacre (illustrated by Floyd Cooper; Carolrhoda Books) won the Coretta Scott King Author and Illustrator Award and received two honors: a Caldecott and a Sibert.
It was a big day for Unspeakable, a title that was already longlisted for the National Book Award. Your artistic partner, Floyd Cooper, passed in July of 2021. This book is his first Caldecott Honor and your first CSK Author Award. Did you two work directly with each other? Did you build a relationship?
Except when I'm working with my son, Jeffery Weatherford, I rarely collaborate directly with the illustrator. Politically, Floyd and I were of the same mind, and we exchanged news articles and pop-culture references about the massacre. Our mutual admiration sparked brainstorming about future collaborations.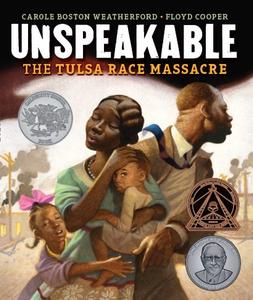 Writing this book must have been incredibly difficult. Did you learn new things in your research? Was there anything you wanted to include in the book but couldn't?
Because the massacre was not taught when I was in school, my knowledge of the massacre resulted largely from research. Had the book been for an older audience, the depiction of the violence might have been more graphic.
Titles like Unspeakable and Black Birds in the Sky by Brandy Colbert as well as shows like Lovecraft Country are responsible for teaching many contemporary people about the Tulsa Race Massacre. How do you feel being a part of such an important educational moment?
In 1921, Tulsa's white leaders deliberately depicted the massacre as a race riot and then, for 75 years, suppressed the truth. Floyd and I started this project before the television series aired. Though encouraged that pop culture has shed new light on the massacre, I detest book bans designed to uphold white supremacy. Oklahoma schools just started teaching the massacre this century, but new state laws could bar books like Unspeakable.
Who do you hope reads this book?
Unspeakable belongs in classrooms and in homes to spark crucial conversations about social justice. Although Unspeakable is a picture book, it can be used in secondary schools to study segregation and to provide historic context for persistent hate violence.
Are you working on something new?
My son Jeffery and I are collaborating on a family history set at Maryland's largest slaveholding plantation where Frederick Douglass was enslaved as a boy. The verse novel conjures the voices of our ancestors and their contemporaries.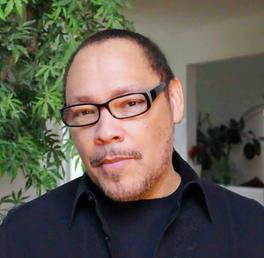 Floyd Cooper
Is there anything else you'd like to say to Shelf Awareness readers?
I will never forget Floyd Cooper or what we produced together. I believe that this book is his magnum opus.
Floyd Cooper (1956-2021) was a Coretta Scott King Award winner and illustrator of numerous books for children, including Ruth and the Green Book, A Spy Called James and Unspeakable. He received a degree in fine arts from the University of Oklahoma and went on to develop a distinctive art technique called oil erasure. Readers can see a video of him discussing Unspeakable here. --Siân Gaetano, children's/YA editor, Shelf Awareness